Meet Alexandra Mandelkorn, the woman behind Janelle Monáe's iconic and incredible style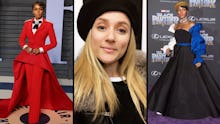 If you pay attention to red carpets at all, you know that Janelle Monáe is running that shit.
With red carpet moments at the Grammys, the Black Panther world premiere, the premiere of A Wrinkle in Time and Vanity Fair's Oscar party that quickly settled into iconic territory, Monáe, who's always been fashionable, has visibly leveled up in the past few months.
That's thanks in part to Alexandra Mandelkorn, the stylist who's been working with Monáe since November. Since then, Monáe's style, which was once a uniform largely consisting of black and white, has bloomed into full-blown color.
"I think that she is definitely going through a transition of change and those inklings had already begun with this album," Mandelkorn said in an interview with Mic. "Her people didn't mention anything specific about her wanting a change, but I can imagine if they saw my work they saw that I am definitely adventurous and I'm not afraid to go big. Knowing her now, she is definitely one who wants to have really avant-garde pieces that other people, I have to say, wouldn't have the balls to wear."
That's partly because Monáe has long had a clear sense of her persona and what that persona should look like, with a longtime affection for tuxedos and menswear that plays into her android alter ego. Before Mandelkorn was a celebrity stylist, which she's been for six years now, she worked in costume-design departments on films, so she understands how to create and progress a character using fashion. That's what's made Mandelkorn feel like a perfect fit with Monáe's currently changing aesthetic. She understands how to play with a character.
"Instead of creating a character on screen, I now get to work with a person and really help them create their vision or the character that they want," Mandelkorn said. "Working with Janelle has been such a dream because she does have a clear idea of what she wants and she's willing to take risks. I get to bring new things to the table, but also she has guidelines of what she likes to stay in. It's nice to be given some parameters."
What Mandelkorn has also experienced as a stylist working with Monae is dressing a figure who's not afraid to get involved in political movements, with Monáe offering one of the most moving and political speeches about gender equality at the 2018 Grammys, and bringing those thoughts to the red carpet as well. To the Grammys and Vanity Fair Oscar party, Monae wore a pin in support of Time's Up.
"It's always been a goal of mine to work with women who have a strong political voice," Mandelkorn explained. "I think that it is our job and if you have a platform and you have a chance to speak out and say how you feel about the wrongs and injustices happening in the world and stand up, then you absolutely should. It's always in my mind, thinking how we can create looks that make these women feel strong and aligns with their voices."
Mandelkorn admits the 2018 awards season felt different from any before it, but she was all here for the red carpet becoming a platform of sorts for women to get their voices heard.
"If there's an option to wear a pin, I'm 100% for it," Mandelkorn said. "That's something that I'm always happy to include. If you have a statement to make and you want the world to know that you stand by these marginalized groups, you can use fashion. If these women have something they want to say with their art, why not include it in their fashion?"
Beyond orchestrating celebrity red carpet fashion for Monae, musician Kate Nash and actress Minnie Driver, Mandelkorn is also the fashion director of Galore, where she's styled cover stars like Lana Del Rey, Cassie and Kiersey Clemons.
Mandelkorn insists that the No. 1 most important thing for a good stylist to have is a lot of perseverance.
"If you keep going and you believe in yourself, and you don't let the tough and crazy industry get you down, there comes a time when you've been doing something long enough that people start recognizing your hard work," Mandelkorn said.
Asked who her dream person would be to style, living or dead, Mandelkorn doesn't pause a second. "Cher," she said. "Any era. The '70s, the '80s and now. She's one of those women who was never afraid to play with fashion, even if people didn't love it."
Cher had (and still has) the fashion sensibility that Mandelkorn believes makes for a fashion icon. Monáe undeniably has that as well.
"It's the people who aren't afraid to take risks who are remembered for using their voice in fashion," Mandelkorn said.