Trump has few options on Syria after second chemical weapons attack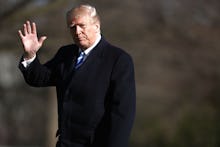 As gruesome images of Syrian civilians killed in a suspected chemical weapons attack spread over the weekend, President Donald Trump responded with his signature bluster.
"President Putin, Russia and Iran are responsible for backing Animal Assad," Trump tweeted Sunday morning, referring to Syrian President Bashar al-Assad, whose regime is accused of carrying out the attack. "Big price to pay."
What "price" Assad will pay, however, is unclear. At a Monday meeting with his Cabinet, Trump said he would make a decision on how to respond in the next 24 to 48 hours, adding that "nothing is off the table."
"If it's the Russians, if it's Syria, if it's Iran, if it's all of them together, we'll figure it out," Trump said, issuing a rare warning to Russian President Vladimir Putin.
Trump is reportedly weighing missile strikes, Homeland Security adviser Tom Bossert said Sunday on ABC's This Week. But as history shows, military force won't necessarily solve the problem.
Trump carried out a missile strike in Syria one year ago, after Assad was accused of perpetrating a similar chemical weapons attack on his own people — yet that didn't stop him from allegedly committing similar atrocities.
Still, some Republicans are pushing for Trump to launch a missile strike, including Sen. Lindsey Graham (R-S.C.) and House Armed Services Committee chairman William "Mac" Thornberry (R-Texas).
"If it becomes a tweet without meaning, then he has hurt himself in North Korea. If he doesn't follow through and live up to that tweet, he's going to look weak in the eyes of Russia and Iran. So this is a defining moment, Mr. President," Graham said on ABC's This Week. "You need to follow through with that tweet. Show a resolve that Obama never did to get this right."
Republicans urging Trump to strike Syria is a marked tone from 2013, when more than 1,000 Syrians died in an attack using the nerve agent sarin. At the time, Republicans demanded that then-President Barack Obama get congressional approval for retaliatory strikes.
But after making that demand, Congressional Republicans refused to give Obama authorization for missile strikes in Syria, saying that the crisis in Syria didn't pose a threat to the U.S.
Even John Bolton, Trump's new national security adviser who started on the job Monday, argued against giving Obama the authority to strike Syria in 2013.
"I think if I were a member of Congress, I would vote against an authorization to use force here. I don't think it is in America's interest. I don't think we should in effect take sides in the Syrian conflict," Bolton said at the time.
Trump could go to Congress to seek approval for missile strikes or a sustained military operation in Syria. But getting Congress to vote for another sustained military operation in the Middle East as election season gets underway would be a challenge.
If Trump does decide on military action, it would be a serious about-face not only from his "America First" agenda, but also from comments Trump made just last week about wanting to pull troops out of Syria.
"I want to get out," Trump said at a press conference on Tuesday, referring to Syria.
"I want to start rebuilding our nation," Trump said. "We will have, as of three months ago, $7 trillion in the Middle East over the last 17 years. We get nothing — nothing — out of it. Nothing."