Kesha officiates a lesbian wedding in the music video for her gender-swapped Janis Joplin cover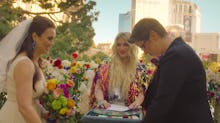 We do not deserve Kesha.
The latest piece of evidence? In her newest music video, the out bisexual singer officiates a lesbian wedding wearing a coat that appears to be made of rainbow, metallic confetti.
Instead of singing one of her own songs, though, this music video features a gender-swapped cover of Janis Joplin's 1968 song "I Need a Man to Love." It's just one of many songs included on Universal Love, a new album with inclusive versions of songs intended to supply same-sex couples with better wedding anthems, according to Into.
"I'm here today in Vegas to marry Lindsay and Dani," Kesha says in the video. "This will be my third same-sex marriage."
The video also features the voices of the couple, Dani and Lindsay, who discuss how they met each other and what Kesha and her music means to them.
"We saw her, I think it was 2015 at Pride, and there were anti-LGBT protesters," Dani says. "She was performing, and she just had her whole, huge rainbow flag as a cape and her rainbow outfit. And she said something like, 'The protesters are out there, but in here...'" at this point, Dani starts getting too emotional to talk.
"Yeah, she said, 'In here it's all love,'" Lindsay chimes in.
This is just Kesha's latest gesture of support for the queer communities. Her latest album, Rainbow, was made for the LGBTQ communities, according to an open letter she wrote on Pride Source.