Christian Siriano on making Cardi B's white 'SNL' gown: "It really was a beautiful moment"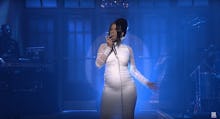 On Saturday evening, Cardi B stepped onto the Saturday Night Live stage to sing her second song of the night — "Be Careful," from her new hit album Invasion of Privacy — in a long-sleeved, ruched white gown.
When she began the song, the camera was trained on her face. A few minutes later, the camera zoomed out, showing the rapper with a baby bump that confirmed — for the first time — that Cardi B is pregnant.
Christian Siriano, the designer of that now-iconic white gown, is speaking out about what it was like being a part of this moment for Cardi B.
"I have been working with Cardi for a while now, before she was the sensation she is today," Siriano said in an email interview. "She really is a pleasure to work with, she's infectious and sweet, so when she needs something we always make it happen."
Before SNL, Siriano famously made the Cinderella-esque blue ballgown Cardi B wore to Rihanna's Diamond Ball back in September.
"Kollin [Carter], her stylist, is doing such a great job for her," Siriano said. "I love working with him and we collaborate well together."
Siriano revealed the gown took just three days to create, from start to finish.
"We made her gown in three days and only had time to fit it the night before her appearance on SNL," Siriano said. "I wanted to give her a goddess, angel-like feeling and I think we accomplished that. It really was a beautiful moment."
You can watch Cardi B's entire SNL performance below: