FBI raids Trump lawyer Michael Cohen's office and seizes records related to Stormy Daniels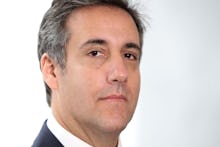 The FBI has raided the office of Michael Cohen, President Donald Trump's personal lawyer, and seized records related to multiple topics, including payments to porn actress Stormy Daniels, the New York Times reported Monday.
Cohen previously said he made a $130,000 payment to silence Daniels from his own funds; the president himself has denied having any knowledge of the payment. Cohen has also claimed he was never reimbursed for the payment.
The payment was made when Daniels, whose real name is Stephanie Clifford, threatened to go public ahead of the 2016 presidential election with details of an affair with Trump, even though she had already spoken out about the relationship in a 2011 interview with InTouch Weekly.
Stephen Ryan, Cohen's own attorney, said lawyers "obtained the search warrant after receiving a referral" from special counsel Robert Mueller, according to the Times.
"Today the U.S. Attorney's Office for the Southern District of New York executed a series of search warrants and seized the privileged communications between my client, Michael Cohen, and his clients," Ryan told the newspaper. "I have been advised by federal prosecutors that the New York action is, in part, a referral by the Office of Special Counsel, Robert Mueller."
Aside from information on the Daniels payment, agents also confiscated emails and tax and business documents.
In March, the Washington Post reported that Mueller's investigation was looking into two Russia-related "episodes" in which Cohen was allegedly involved, including the Trump Organization's attempt to build a tower in Moscow and a "Russia-friendly peace proposal for Ukraine" that a Ukrainian lawmaker had delivered to Cohen a week after Trump's inauguration.