The Michael Cohen raid is an existential threat to Trump's presidency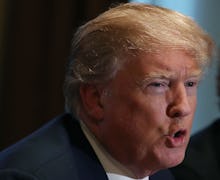 Welcome to Mic's daily read on Donald Trump's America. Want to receive this as a daily email in your inbox? Subscribe here.
Good morning from Emily Singer at Mic.
Here's what's happening in Trump's America:
• The feds raided Trump personal attorney Michael Cohen's personal office and residency on Monday, which Trump called an "attack on our country."
About last night: Trump won't rule out firing Mueller
President Donald Trump is in a rip-roarin' mood after federal agents on Monday raided Trump personal attorney Michael Cohen's office, home and hotel room where he's been living while his apartment undergoes a renovation.
The feds seized emails, tax records and business documents from Cohen — some related to the $130,000 payoff to porn actress Stormy Daniels. Cohen's lawyer also said agents seized "privileged communications" between Cohen and Trump.
The raid is an existential threat to Trump's presidency. Cohen has described himself as Trump's "fixer," making him inextricably tied to Trump and Trump's business activities.
And experts say that since the raid was carried out by agents in the Southern District of New York and not by Mueller's team, it suggests the investigation has turned up evidence outside the scope of the Russia investigation. Indeed, the Washington Post reported that Cohen is under investigation for alleged bank fraud, wire fraud and campaign finance violations — which would drag Trump's name into any possible charges.
In an angry rant Monday night before meeting with top military officials, Trump said agents "broke into" Cohen's office, and said the raid amounted to, "an attack on our country."
Trump continued that rant Tuesday morning, saying in a pair of tweets that "attorney-client privilege is dead!" and that the investigation is "A TOTAL WITCH HUNT!!!"
Most of Trump's tirade against the raid is not based in fact.
Of course, it's not a break-in when federal agents have a warrant, which requires prosecutors to make a case to a judge that they have probable cause to believe a crime occurred in order to get the warrant approved. Mueller's investigation is also not a witch hunt. It's already led to multiple guilty pleas and indictments, as well as Monday's raid of Cohen.
There is also a limit to attorney-client privilege called the "crime/fraud exception," which says that privilege is moot if the communication is "in furtherance of a contemplated or ongoing crime or fraud," according to the American Bar Association.
Nevertheless, Trump believes the investigation is unfair. And when asked whether he is thinking about firing Mueller, Trump didn't rule out that possibility.
"I think it's a disgrace what's going on," Trump said Monday night before the meeting with military officials. "We'll see what happens. But I think it's really a sad situation when you look at what happened. And many people have said, 'You should fire him.'"
"So we'll see what happens," Trump added of Mueller. "I think it's disgraceful, and so does a lot of other people. This is a pure and simple witch hunt."
After Trump's outburst, Democrats warned Trump, on Twitter, against firing Mueller.
"If @realDonaldTrump is thinking of using the FBI raid to fire special counsel Mueller or otherwise interfere with the chain of command in the Russia probe, we Democrats have one simple message for him: Don't," Senate Minority Leader Chuck Schumer tweeted Monday night. "The investigation is critical to the health of our democracy, and must be allowed to continue."
Today in Trump's America: The country waits for Trump's Syria response
On Monday, Trump promised that a response to the suspected chemical weapons attack in Syria would come in the next "24 to 48 hours."
Trump met with top military officials Monday night to discuss how the U.S. will respond.
"We're going to make a decision tonight, or very shortly thereafter," Trump said before the meeting. "And you'll be hearing the decision."
Missile strikes, such as the ones the U.S. carried out a year ago in Syria, are on the table.
Capitol Hill happenings: Zuckerberg storms the Hill
Facebook CEO Mark Zuckerberg will face members of the Senate Judiciary Committee on Tuesday afternoon.
The hearing begins at 2:15 p.m., when Zuckerberg will be forced to answer questions about Facebook's privacy and personal data collection in the wake of the Cambridge Analytica scandal. Zuckerberg will take responsibility and apologize for the improper personal data collection, according to his prepared testimony.
"We didn't take a broad enough view of our responsibility, and that was a big mistake," Zuckerberg will say. "It was my mistake, and I'm sorry."
Still, lawmakers — who often try to get noticed with fiery lines of questioning at hearings — are unlikely to let Zuckerberg off easy.
And the rest…
DACA: College tuition for roughly 2,000 Arizona residents is set to increase dramatically after the Arizona Supreme Court ruled that state colleges cannot give in-state tuition rates to immigrants in the Deferred Action for Childhood Arrivals program. DACA recipients instead will have to pay out-of-state rates to attend Arizona state schools, which is three times higher than in-state tuition, according to the Arizona Republic.
It's a girl! Sen. Tammy Duckworth (D-Ill.) announced the birth of her daughter, Maile Pearl, on Monday, making her the first sitting U.S. senator to give birth. "Parenthood isn't just a women's issue, it's an economic issue and one that affects all parents — men and women alike," Duckworth said in a statement announcing the birth. "As tough as juggling the demands of motherhood and being a senator can be, I'm hardly alone or unique as a working parent, and my children only make me more committed to doing my job and standing up for hardworking families everywhere."
Debt: The GOP tax bill will not pay for itself, as the Trump administration promised. In fact, it will help balloon the deficit more than $1.6 trillion, according to the nonpartisan Congressional Budget Office, which said the country's debt burden could lead to a full-fledged crisis.
Florida Senate: Florida GOP Gov. Rick Scott announced on Monday he's running for Senate against Democratic Sen. Bill Nelson, setting up what could be one of the most competitive — and expensive — Senate contests of the 2018 midterm elections.