How two sisters went from founding America's first punk store to creating Manic Panic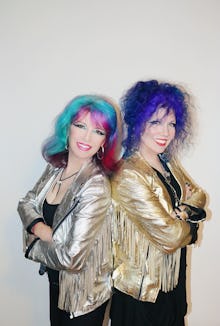 The year is 1977. Star Wars premiered in theaters. Jimmy Carter is inaugurated as president. Fleetwood Mac's Rumours is released. New York City had its infamous blackout. And two sisters, Tish and Snooky Bellomo, opened Manic Panic, the first punk store in America, in New York City on July 7. (Yes, that makes its opening day 7/7/77.)
Little did they know their small shop would grow to become the cultural reference point for punk's ascent into the mainstream over the next few decades.
"People always loved the way we looked and they always asked us where we got our clothes," Snooky Bellomo said in an interview. "We decided to open it after doing a bunch of rock-and-roll rummage sales and finding so many great pieces everyone wanted. We said, 'Hey, how about we open a store?'"
By that time, their punk credentials and aesthetic were already set: blown-out hair in wild colors, stiletto heels, black leather. You know the vibe. The women, who sang backup in the original Blondie lineup, had spent years taking the subway from their Bronx home to downtown clubs, where the punk scene was emerging in spaces like CBGB.
With $500 between them and encouragement from friends, the sisters opened a tiny store along the infamous St. Marks Place strip in the East Village, selling the kinds of clothes they wanted: Dr. Martens, platform shoes, vintage clothes, studded accessories, records, fan zines, wild makeup, plenty of black leather and, yes, hair dye. They named it Manic Panic — a suggestion from their mother, who worked in a psychiatric hospital.
Their customers were both locals and people from all over the world. "People would come from Japan," Tish Bellomo said. "It was incredible, but all the people who came in were avant-garde and artists and musicians. That's where trends start."
The store wasn't an immediate success, being known in the neighborhood primarily as a place that was easy to shoplift from, Tish said, but the cosmetics and hair dye were instant favorites — even if having unconventional hair wasn't all that popular just yet.
"It was very weird back then to have a non-normal hair color," Tish said. "We'd be tortured for the way we looked. We'd get such ridicule on the subway coming down from the Bronx, in areas that weren't downtown New York City. I was having my picture taken with Goofy [at Disneyland], and he leans over to me and says, in Goofy voice, 'purple hairrr?'"
The Bellomo sisters soon realized the hair dye they were selling could be upgraded beyond their technicolor dreams. The formulation of their own hair dye, which would later become Manic Panic's most iconic product, is what helped the store take off. Working with a color expert, Tish and Snooky created a high-quality dye formula in shades like bright reds, pinks, blues and greens. That's how the hair dye brand, which was named Manic Panic after the store and now comes in nearly 100 shades, was created.
At that time, women-owned businesses often had the odds stacked against them. But at Manic Panic, being women worked to their benefit. "We knew beauty more than any other male competitor so they couldn't compete with us," Snooky said. "We wore the hair color and cosmetics, and we could recommend to people how to wear it and give our own advice in the store."
Celebrity fans also helped spread the word about Manic Panic — both the store and hair dye. Cyndi Lauper was an early fan and frequently spoke out about using the brand to color her hair in the '80s. Cher shopped in the store for wigs and makeup.
"Nobody had ever seen a store like this," Tish said. "They either loved it or they hated it, but it was known that we had the best quality dye. We had so many colors, the biggest variety, and people loved our store and our concept. Every business move we've made has been, not accidental, but we just grow. We're musicians, so we didn't have any business education, so we were just figuring it out."
The store took a huge hit in 1989. Their landlord was raising the rent to astronomic proportions, and the sisters couldn't keep up. They closed the store and started focusing on the cosmetics line, hair dye included, as a wholesale business out of various apartments in New York City.
Luckily, the move coincided with the rising punk and grunge movements of the early '90s — and the popularity of figures like Gwen Stefani and members of the band Green Day — so sales skyrocketed. In 1999, Manic Panic set up its headquarters in a 14,000-square-foot warehouse in Long Island City, where it's been ever since.
Tish and Snooky now see the brand's success as the ultimate tribute to their mother.
"I think we've always loved color because of our mother," Snooky said. "Our mother was an artist and we played with paints and glitters all our childhoods. I had a doll with green hair when I was about 5, and I always thought that was cool. I think people have always dreamed about having these hair colors. It's a dream to have purple hair or blue [hair]."
While they lived through years where having blue hair or green hair was taboo, the sisters have been thrilled to see just how mainstream Manic Panic has become. It's appeared on fashion runways via designers like Betsey Johnson and Louis Vuitton. It's been on celebrities like Rihanna, Katy Perry, Lady Gaga and, most recently, Cardi B on Saturday Night Live. It's in Hot Topic stores and beauty supply shops across the world.
Tish and Snooky estimate they sell "millions" of Manic Panic tubs and bottles of dye each year, with a portion of profits always going to various charities. Its success hasn't just changed their lives, they said, but the lives of many fans.
"We had one girl who was suicidal and said she dyed her hair and it just changed her whole perspective," Tish said. "Then there was that woman in Canada in her '80s who felt invisible, so she dyed her hair purple and said that, all of a sudden, she wasn't invisible. People wanted to take their picture [with] her. She was known as Purple Rose, and it just made her twilight years so much happier and so much better and after she died, all her relatives colored their hair purple for the service."
There's power in this kind of self-realization and self-expression.
"I think we're all about individuality and living in color, and being yourself and doing what you want to do," Snooky said. "We've always been about endorsing people's individuality and right to be themselves. We were always misfits and now we have embraced these misfits. Now it's for everybody. Everybody can be themselves."
Through the ups and downs, the sisters have always remained loyal to themselves. Tish, now 63 years old, wears a mixture of Manic Panic's Siren Song (a blue-green), Cotton Candy Pink and sometimes Pretty Flamingo, a bright pink. Snooky, now 65, wears Voodoo Blue, Atomic Turquoise and Purple Haze.