Why you can't expect much at all from Congress before the midterms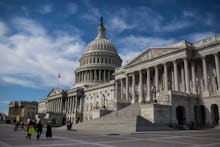 Congress returned to Washington this week from a two-week recess, but don't expect the legislative body to accomplish much over the next seven months, as politics will trump policy in the lead-up to the 2018 midterm elections.
That expected inaction has now been compounded after House Speaker Paul Ryan's Wednesday announcement that he is retiring when his term expires in January.
Ryan's lame-duck status could make his job of overseeing an already hard-to-wrangle Republican conference even more challenging. This will be further complicated by the behind the scenes jockeying by GOP Reps. Kevin McCarthy and Steve Scalise, who are looking to replace Ryan as House Republican leader.
For the most part, the GOP-controlled House will hold show votes — or votes they know can't pass, but they can use in campaign ads to inflict pain on Democrats — that they hope can improve their standing in the November midterms.
Show votes expected this year include an attempt by Republicans to rescind some provisions in the $1.3 trillion government funding bill passed in March, as well as a balanced budget amendment — which even conservative members of the House Freedom Caucus are calling a hypocritical stunt. The rescission bill is unlikely to pass the Senate, where Republicans need 60 votes to advance a bill. In fact, Senate Republicans, who control the chamber, may not even get a majority of votes for a rescission bill.
The balanced budget amendment is purely for show. Actually balancing the budget would require Congress to either raise taxes (a Republican nonstarter) or cut social safety net programs, like Social Security and Medicare. That's unlikely to happen, especially in an election year.
"This upcoming balanced budget amendment shouldn't be called a BBA; it should be called a CYA," Rep. Justin Amash (R-Mich.) tweeted. (BBA stands for balanced budget amendment while CYA stands for "cover your ass.")
The Senate, on the other hand, will be consumed by confirmation battles for Trump's Cabinet nominees. The first confirmation hearing begins Thursday, when the Senate Foreign Relations Committee will meet to vet Mike Pompeo, who President Donald Trump nominated to succeed former Secretary of State Rex Tillerson.
After that, the Senate will have to move on to Trump's nominees to head the CIA and the Department of Veterans Affairs. Both of those confirmations could lead to tough battles, as the CIA director nominee will face questions over her role in the CIA's torture program, while Trump's VA nominee faces questions about his qualifications.
Of course, there's must-pass legislation Congress will be forced to tackle, such as a government funding bill in the fall, when the current spending package expires on Sept. 30.
Given that deadline falls roughly a month before the midterm elections, it's likely lawmakers will pass a short-term measure that funds the government through the election, leaving negotiating a longer-term deal for the lame-duck session. Depending on which party has control after Nov. 6, Congress could punt a long-term spending deal until January, when new members are sworn in.
For now, both chambers of Congress are only slated to be in Washington for 12 more weeks before the long August recess. After that, the midterms will fully consume Capitol Hill, giving lawmakers little time to get anything of substance passed.