"If I were Cohen, I'd be concerned": What the FBI raid means for Trump and his "pit bull" lawyer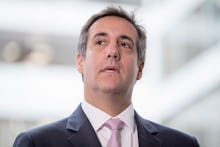 It isn't clear what, specifically, the FBI was looking for Monday when it raided the office and hotel room of Michael Cohen — the dutiful, bullying longtime attorney of President Donald Trump.
But whatever the evidence was that justified the move, it was almost certainly strong.
"The search of a lawyer's office is unusual and suggests to me that the allegations and the preliminary evidence regarding Cohen are significant," former federal prosecutor Patrick Cotter said in an email interview with Mic Tuesday. "The [Department of Justice] and judges are generally very reluctant to order such searches and the prosecutors had to jump through a lot of hoops to get the warrants."
Federal authorities, acting on a referral from special counsel Robert Mueller, seized tax records, emails and business documents from Cohen — including some related to the $130,000 he paid out to Stormy Daniels, the adult film actress who allegedly had an affair with Trump in 2006, according to the New York Times. They also collected communications between Cohen and the president, Cohen's attorney told the New York Times, which first reported the move.
The raid — conducted by the United States attorney's office for the Southern District of New York — seemingly puts one of Trump's most trusted confidantes in significant legal peril, spelling trouble not just for Cohen, but for the president himself.
He "knows everything there is to know" about Trump
To understand why the raid on Cohen could be so dangerous for Trump, it's important to know what his actual relationship is to the president.
Cohen is not just Trump's lawyer. He is someone who has been described, more than once, as the president's "pit bull" — a combative Trump defender whose affinity for his client began long before he joined the Trump Organization more than a decade ago.
"I've been admiring Donald Trump since I was in high school," Cohen told ABC News in 2011, an affection he said was borne of reading The Art of the Deal twice.
Since beginning work for Trump, Cohen has continued to express an over-the-top loyalty to him.
"To those of us who are close to Mr. Trump, he is more than our boss," Cohen told the Jewish Chronicle in 2016. "He is our patriarch."
And, he told the publication, he did not consider his position with Trump to be that of a typical attorney. His job, he said, is to "protect him from all those who seek to malign him, the company or any of his vast corporate entities."
Or, as he put it in that 2011 ABC News interview, "If somebody does something Mr. Trump doesn't like, I do everything in my power to resolve it to Mr. Trump's benefit."
"If you do something wrong, I'm going to come at you, grab you by the neck and I'm not going to let you go until I'm finished," Cohen told ABC News.
As a result, Cohen — who once claimed he'd "take a bullet" for the president — worked his way into Trump's inner circle, where loyalty to the so-called patriarch seems an exceptionally valuable currency.
"The key thing to understand is that Cohen defined himself as Trump's 'fixer,'" Michael D'Antonio, the Pulitzer Prize-winning journalist and Trump biographer, said in an email interview with Mic. "This is not something a lawyer says about his duties to his client. It is something said by a man who works for a boss who crosses the line all the time and requires continual protection from himself."
Consequently, Cohen's apparently deep entanglement in Trump's business, personal and political affairs could create significant political, and possibly legal, headaches for his boss — who characterized Monday's raid as an "attack on our country."
"Cohen knows everything there is to know about Trump's 500-plus businesses. He understands how Trump challenged the boundaries of normal business practices and where he may have crossed them," D'Antonio said. "Prosecutors may now have volumes of material on past 'issues' Cohen fixed and this exposes what was once private in a way that must worry the president."
What the raid could mean for Cohen — and Trump
Cohen's blurry role in Trumpland could also make both the lawyer and his client legally vulnerable.
The president, reportedly infuriated by the raid, seemed to suggest Tuesday that he considered the seizure of his communications with Cohen a violation of attorney-client privilege.
But, Kathleen Clark, a professor of law at Washington University in St. Louis, said in a phone interview with Mic that it isn't clear if Cohen was acting in his legal capacity in his discussions with Trump. If he wasn't, Clark said, then the communications wouldn't be privileged.
"It's not clear he'd been functioning primarily as a lawyer in connection with the Trump Organization," Clark said. "A document is privileged only if it is a communication from a client to a lawyer or vice versa in connection with providing legal advice."
Cohen, however, claimed in February that the $130,000 of hush money he paid to Stormy Daniels ahead of the 2016 election came out of his own pocket without the knowledge of the Trump Organization and the Trump campaign. He has declined to say if Trump himself was aware of the payment; the president last week claimed he did not know about the payment and directed questions to Cohen.
"You'll have to ask Michael Cohen," Trump told reporters aboard Air Force One.
According to Cotter, the former federal prosecutor, such measures then would not be covered by attorney-client privilege.
"Things done out of friendship, even by a person who happens to be a lawyer, are not covered by attorney-client privilege," Cotter said.
What the raid will ultimately mean for Cohen and Trump is not yet clear.
Cohen is being investigated for possible bank fraud, wire fraud and campaign finance violations, the Washington Post reported late Monday. That authorities were able to clear the exceptionally high bar to obtain a search warrant against him, according to Cotter, suggests they already have strong evidence against him.
"If I were Cohen, I'd be concerned," Cotter said.
Cohen is also being scrutinized by Mueller over his attempts to broker a deal to build a Trump Tower in Moscow; he reportedly reached out to the Kremlin during Trump's presidential campaign in 2015 and 2016.
Mueller is also probing a shady $150,000 donation to the Donald J. Trump Foundation in 2015 made by a Ukrainian billionaire after then-candidate Trump appeared at a Kiev conference via video, the Times reported Monday; Cohen "solicited the donation," according to the report.
The move Monday does not, however, appear to be directly related to the Russia investigation — yet.
That the raid was conducted by the FBI under referral from Mueller signals that "the subject matter of the search warrant directed at Cohen falls outside" the scope of the special counsel's probe for now, Cotter said.
But, Cotter said, "there is no reason that the evidence cannot later be shared with Mueller" if it proves pertinent to the Russia probe.
Trump railed against the raid on Monday, saying it amounted to a "whole new level of unfairness" and suggesting that he may attempt to fire the special counsel — something even Republicans warn could be political "suicide."
"It's a disgraceful situation," Trump said in rambling comments to reporters Monday. "It's a total witch hunt. I've been saying it for a long time."
It was still on his mind early Tuesday morning.
"A TOTAL WITCH HUNT!!!" he tweeted.