Janelle Monáe's new "Pynk" music video depicts a vagtastic, lesbionic, futuristic fantasy land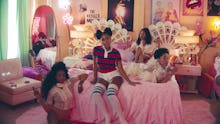 Janelle Monáe just released a new music video for her song "Pynk," a Grimes-featuring track from Monáe's upcoming album Dirty Computer, out April 27. Folks, trust that I'm doing you a favor when I tell you to sit down and watch this one.
Monáe has always been an outspoken feminist, but "Pynk" elevates the themes of queerness and female empowerment in her work to a whole new level.
The video opens with a nod to Monáe's love of futurism, showing her driving a flying pink car up to a rest stop in the middle of the desert. A sign outside the front door reads, "GRRLS EAT FREE AND NEVER LEAVE."
What follows is a four-minute-plus celebration of gorgeous, queer women — and therefore a send-up of our patriarchal world that constantly threatens to push them to the margins.
"Pynk is a brash celebration of creation," the video's description says. "Self love. Sexuality. And pussy power! Pynk is the color that unites us all, for pink is the color found in the deepest and darkest nooks and crannies of humans everywhere... Pynk is where the future is born."
Also, there's a sequence in which Monáe dances while wearing pants designed to look like a literal vagina. Georgia O'Keeffe is shook.
Later, she births actress Tessa Thompson's head from those pants, in case you were wondering whether this video was planning to pull any punches whatsoever.
Still not convinced? OK: Monáe later wears a pair of underwear stitched with the phrase "SEX CELLS" while sporting a massive bush of pubic hair. One of her dancers is wearing underwear with "I GRAB BACK" stitched over the crotch.
Monáe and Thompson also make flirty eye contact over a sea of bouncing butts.
I don't really know how else to convince you to watch this video other than to simply describe what happens in it, but here are some very good tweets that have popped up. Maybe they will convince you.
OK, you're dismissed. Go watch "Pynk" and then watch it eight more times after that. And if that's still not enough, take note of the other videos Monáe has released on behalf of Dirty Computer: "Make Me Feel" (which also features Tessa Thompson) and "Django Jane."