Trump to Russia: "Get ready" for US missile strikes on Syria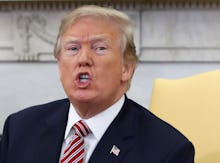 President Donald Trump on Wednesday suggested in a tweet aimed at Russia that the United States will conduct a missile strike on Syria. It's in response to the Syrian Air Force's latest alleged chemical attack, which left dozens dead over the weekend.
"Russia vows to shoot down any and all missiles fired at Syria," Trump tweeted early Wednesday morning. "Get ready Russia, because they will be coming, nice and new and 'smart!'"
Trump has been weighing another strike on Syria after the country's president Bashar al-Assad conducted a suspected chemical attack on the rebel-held city of Douma Saturday. Activists from the Violations Documentation Center reported two incidents of bombs containing toxic substances being dropped in the region. Over 500 people were taken to hospitals with symptoms in line with chemical exposure, according to Syria Civil Defense and the Syrian American Medical Society. Rescue workers said they found 42 people dead in their homes.
"We cannot allow atrocities like that," Trump said during a Cabinet meeting Monday. "Cannot allow it."
The Kremlin has said it will shoot down U.S. missiles if it conducts a strike, and that it would view such an attack as a war crime.
The Syrian government and Russia, which backs Assad, have denied a chemical attack took place.
Trump, who typically adopts a warmer stance on Moscow, has specifically called out Russian President Vladimir Putin in recent days over his support for the Syrian strongman. "You shouldn't be partners with a Gas Killing Animal who kills his people and enjoys it!" Trump tweeted Wednesday.
Trump launched missile strikes against the Syrian government in April 2017 after an earlier suspected chemical attack by Assad. Putin had ripped that move as a "violation of the norms of international law."
After Assad's most recent alleged attack, Trump said that "nothing is off the table." But his last missile strikes on Syria apparently did not deter Assad, and it's unclear how much Trump will be able to back up his bluster. Trump did, however, suggest that he would attempt to increase pressure on Assad's allies in Russia and Iran, tweeting Sunday that there would be a "big price to pay" for those who support the Syrian government.
In a later tweet Wednesday, Trump lamented that "our relationship with Russia is worse now than it has ever been, and that includes the Cold War."
"There is no reason for this," he said. "Stop the arms race?"