White House aides fear Trump will fire Mueller, Rosenstein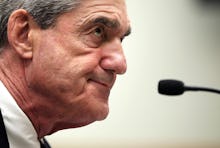 Welcome to Mic's daily read on Donald Trump's America. Want to receive this as a daily email in your inbox? Subscribe here.
Good morning from Emily Singer at Mic.
Here's what's happening in Trump's America:
• The country waits with bated breath to see if Trump will fire either Deputy Attorney General Rod Rosenstein or special counsel Robert Mueller.
About last night: White House aides fear Trump may fire Rosenstein and Mueller
Tensions are running high in the White House as Trump fumes about Mueller's Russia investigation.
The New York Times reported that Trump is having a "meltdown" over the FBI raid of his personal attorney, Michael Cohen, and aides are worried Trump may actually fire Mueller. The New York Times reported Tuesday that Trump actually tried to fire Mueller twice in 2017, once in June and once in December.
CNN also reported Trump is considering firing Rosenstein, who oversees Mueller's investigation, in an attempt to put more boundaries on Mueller's investigation.
White House press secretary Sarah Huckabee Sanders said Tuesday the White House has been advised that Trump does have the power to fire Mueller — suggesting firing Mueller is something the White House has looked into. Most legal experts have said Trump does not have the authority to fire Mueller himself, but would have to ask Rosenstein to do it.
Congressional Republicans have warned Trump against firing Mueller, but don't have any plans to pass legislation protecting Mueller's job.
Today in Trump's America: Trump taunts Putin, and seems to announce military strikes in Syria
Trump has taken a markedly different tone against Russian President Vladimir Putin since the chemical weapon attack in Syria.
Putin supports and has aided Syrian President Bashar Assad, who is suspected of launching yet another chemical weapon attack against his own people on Saturday.
"Russia vows to shoot down any and all missiles fired at Syria," Trump tweeted Wednesday morning. "Get ready Russia, because they will be coming, nice and new and 'smart!' You shouldn't be partners with a Gas Killing Animal who kills his people and enjoys it!"
Trump's tweet appears to be an announcement that the U.S. will launch military strikes in Syria.
Trump has been weighing how to respond to the chemical weapon attack in Syria for the past few days, with the White House saying all options were on the table.
The U.S. launched a missile strike in Syria a year ago, following a similar chemical weapons attack by Assad against his people.
Capitol Hill happenings: Zuckerberg heads back to the hill
Zuckerberg is back on Capitol Hill for a second day of grilling, this time before the House Energy and Commerce Committee.
Zuckerberg spent hours Tuesday testifying before 44 members of both the Senate Judiciary Committee and the Senate Committee on Commerce, Science and Transportation.
But the testimony was largely a snooze fest.
Zuckerberg apologized for the Cambridge Analytica data scandal and how the company handled the improper data collection. And the senators who questioned Zuckerberg largely showed they didn't understand how Facebook works.
Today's hearing will begin at 10 a.m. Eastern.
And the rest…
Retirement watch: House Speaker Paul Ryan (R-Wis.) will soon announce that he doesn't plan to run for re-election in November, Axios reported. If Ryan retires, it will set off a fight between Republican House members for who will take up the leadership mantle.
Scott Pruitt: Environmental Protection Agency administrator Scott Pruitt's ethical troubles have faded from the news thanks to the Cohen raid, but that doesn't mean his troubles have ended. Politico reported Tuesday the EPA removed a career employee who approved a report that said Pruitt didn't need the expensive security protection Pruitt employed. The report said there were no credible threats against Pruitt to justify the $3 million cost of his security detail.
Border Patrol: NBC News reported that Border Patrol agents may have violated international law when they attempted to force an injured and mentally unstable man over the border into Mexico because he looked Mexican.
Cohen breaks his silence: Cohen told CNN that the FBI agents who raided his home and workplace "were extremely professional, courteous and respectful," comments that differ greatly from Trump's alarmist rhetoric on the raid. "I am unhappy to have my personal residence and office raided. But I will tell you that members of the FBI that conducted the search and seizure were all extremely professional, courteous and respectful. And I thanked them at the conclusion," Cohen told CNN.