Trump blames Mueller for US-Russia conflict as fears mount over firing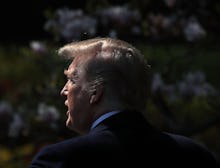 President Donald Trump on Wednesday blamed increasing tensions between Washington and Moscow on the FBI's Russia investigation, adding to concerns that he will attempt to fire special counsel Robert Mueller.
"Much of the bad blood with Russia is caused by the Fake & Corrupt Russia Investigation, headed up by the all Democrat loyalists, or people that worked for Obama," Trump tweeted. "Mueller is most conflicted of all (except Rosenstein who signed FISA & Comey letter). No Collusion, so they go crazy!"
Trump has railed against the Russia probe for more than a year, but his anger has seemed to spike in recent days following the FBI's raid Monday on his longtime lawyer, Michael Cohen. The raid was conducted by the United States attorney's office for the Southern District of New York, under referral from Mueller. Trump called it a "disgrace" and an "attack on our country."
The White House has declined to say if Trump is considering firing Mueller, but press secretary Sarah Huckabee Sanders said in a press briefing Tuesday that the president "certainly believes he has the power to do so."
On Tuesday evening, CNN reported that Trump is weighing firing Rod Rosenstein, the deputy attorney general who has overseen the Russia investigation since attorney general Jeff Sessions recused himself from matters related to the probe in early 2017.
Rosenstein, who is considered the only person with the authority to terminate Mueller, has said that he sees no just cause for firing the special counsel.
According to CNN, Trump may even be considering firing Sessions, whom he has publicly berated for recusing himself from the investigation.
"The attorney general made a terrible mistake when he did this and when he recused himself," Trump said Monday. "He made what I consider to be a very terrible mistake for the country."
Removing Sessions or Rosenstein would almost certainly be seen as a threat to the special counsel, which Democrats — and some Republicans — have warned could send Trump's presidency into crisis.
"I have confidence in Mueller, the president ought to have confidence in Mueller," Sen. Chuck Grassley (R-Iowa) said Tuesday. "I think it would be suicide for the president to want to talk about firing Mueller."
Trump has reportedly been discussing the possibility of directly firing Mueller for months, but it isn't clear he has that authority.
Still, a bipartisan group of senators on Wednesday will introduce legislation intended to protect Mueller from Trump, according to Sen. Chris Coons (D-Del.) — one of the sponsors.
Coons — along with Sens. Lindsey Graham (R-S.C.), Cory Booker (D-N.J.) and and Thom Tillis (R-N.C.) — will introduce the Special Counsel Independence and Integrity Act. The bill would clarify that the special counsel can only be fired by a senior Department of Justice official and only for just cause. Further, it would allow the special counsel to appeal the dismissal.
"This is a time when all of us — Republicans and Democrats — need to stand up and make it clear that we are committed to the rule of law in this country," Coons said in a press release announcing the measure. "We need to ensure not only that Special Counsel Mueller can complete his work without interference, but that special counsels in future investigations can, too."
The four senators were behind a pair of similar bills that have seemingly stalled.
Senate Minority Leader Chuck Schumer on Tuesday highlighted the urgency to pass some measure protecting Mueller, calling on Senate Majority Leader Mitch McConnell to "bring [one of the bipartisan bills] to the floor and let us debate them very soon."
But Senate Majority Leader Mitch McConnell suggested to reporters on Tuesday that the effort may be a nonstarter, stating again that he does not believe such legislation is necessary because he does not think Trump will attempt to fire Mueller.
"I haven't seen a clear indication yet that we needed to pass something to keep him from being removed because I don't think that's going to happen, and that remains my view," McConnell said.