Transgender activist Jazz Jennings teams up with Knixteen to star in a new bra campaign for teens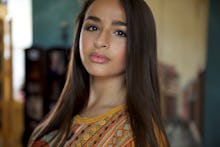 Bras have long been important to Jazz Jennings, the 17-year-old TV personality, author and activist who famously starred in the TLC series I Am Jazz, which chronicled her life as a transgender teen. Jennings' first bras were passed down from her sister, before Jennings was even in middle school. She'd fill the cups with tissues, walk around the house, and then when she was done, she'd lay them in a drawer labeled "For the future (or for now)."
"It was definitely something very important to me at the time," Jennings said in an interview with Mic. "When I was 10 or 11 years old, seeing my friends get those buds, I let myself have that, too. I felt like it was me. It felt like the body I was supposed to have."
On Thursday, Jennings brings her affection for the garment to a new campaign for the intimates brand Knix's offshoot for teenagers — Knixteen, which currently just focuses on period underwear. By being one of the stars in this campaign, Jennings is the first out trans teenager starring in a bra campaign aimed at teenagers.
"I feel like being trans, people don't look at me like I'm a real girl," Jennings said. "However, I am a real girl, and I experience a lot of the same struggles when it comes to bras and underwear."
The campaign itself, called BraBoss, is the first of its kind in that will end up creating bras designed for teens, by teens. Starting with a survey that just launched, where teens in the U.S. and Canada can outline their bra preferences and needs, Knixteen will take the results and create its first bras for teenagers.
"Jazz is one of the youngest publicly documented people to identify as transgender," Joanna Griffiths, the founder and CEO of Knix, said in an interview. "She's become a national transgender figure for teens and helps spread the message of tolerance and acceptance. Breaking stigmas and empowering teens are two of our core values at Knixteen and Jazz aligns perfectly with them."
Jennings is one of the "style curators" for this campaign — joined by fellow teen trailblazers, including actress Bailee Madison and baseball star Mo'Ne Davis, who will all be creating custom bras to their liking — set to be launched in the fall.
For Jennings, the idea that she will be designing a bra for other teens, who may be trans as well, is powerful. She knows that although she was lucky enough to have parents who were supportive of her journey and transition and need for a bra, many others don't.
"I know that a lot of transgender youth out there don't have the support of their family, so for those kids, I say to stay strong and keep moving forward," Jennings said. "They have to be independent, and you have to create your own family and tribe. If your parents don't want you wearing a bra, that's really not their business."
But what Jennings is really excited about herself is creating a bra for Knixteen that offers her what she's been looking for with her own bras.
"I think overall it's more than a bra thing; it's a girl thing," Jennings said of the campaign. "We want to feel comfortable in our bodies and with ourselves. We need to go throughout our lives being OK with what's underneath, and I can't wait to help create something that can do that."