Bank of America will stop lending money to clients who manufacture military-style guns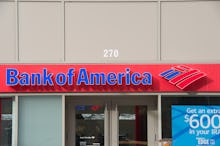 Bank of America plans to stop lending money to clients that produce military-grade assault weapons for civilian use, co-vice chairwoman Anne Finucane told Bloomberg TV on Tuesday.
"We want to contribute in any way we can to reduce these mass shootings," Finucane said. "It's such a tragedy in the United States."
Although Bank of America only has "a few" clients who are manufacturers of military-style firearms, Finucane said the bank has had "intense conversations with them over the last few months" to let them know of the policy change. The company declined to provide further details about the decision to Mic.
Finucane clarified the bank will stop short of ending its lending relationships with retailers that sell military-style assault weapons, claiming the civil liberties implications would make that "harder to do."
"The problem with that is it gets into civil liberties and the Second Amendment," Finucane said. "I mean, that's a good public dialogue, but that's a ways off."
Bank of America isn't the first financial institution to take a political stance in the ongoing national debate on guns in the wake of the Feb. 14 mass shooting at a high school in Parkland, Florida, that left 17 students and faculty members dead.
In March, Citigroup announced it would adopt a new policy preventing its retail sector clients and partners from selling guns to individuals who have not passed a background check or who are under the age of 21. The policy also bans the sale of bump stocks.
Outside of the financial sector, big-name brands have also waded into the fray: In recent weeks, major national retailers like Walmart, Delta Air Lines and MetLife Insurance Company have decided to sever ties with the National Rifle Association.
But even before banks and retailers began boycotting the NRA en masse, investor-owned gun manufacturers have been hemorrhaging value in the U.S. for years. In March, Remington Outdoor Company — one of the oldest gun suppliers in the United States — filed for Chapter 11 bankruptcy after seeing its sales decline by 27% in the first three quarters of 2017.
Sturm, Ruger & Co., the company that makes the AR-15-style weapon used in a 2017 Texas church shooting, also reported a double-digit sales decline that same year.
In response to the Bank of America news Tuesday, Parkland survivor and student activist Alex Wind tweeted: "To those still doubting us: look around you. The world is changing."
Although it has been largely mum on the subject, the Institute for Legislative Action — the NRA's lobbying arm — released a statement in February that said the widespread boycotts would unduly punish "members [of the NRA] who are doctors, farmers, law enforcement officers, firefighters, nurses, shop owners and school teachers that live in every American community."
"Some corporations have decided to punish NRA membership in a shameful display of political and civic cowardice," the statement continued. "In time, these brands will be replaced by others who recognize that patriotism and determined commitment to constitutional freedoms are characteristics of a marketplace they very much want to serve."
This isn't the first time Bank of America has opted to end its relationship with a sector of companies perceived as having a negative social impact. In 2015, the bank announced a decision to reduce its credit exposure to coal extraction companies, acknowledging its "responsibility to help mitigate climate change by leveraging our scale and resources" in a statement.