A brief look back at Paul Ryan's crusade to cut benefits to the poor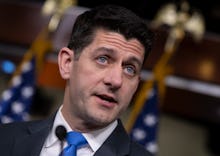 In a speech Wednesday morning announcing his decision not to seek re-election in November and instead retire when his term expires in January, House Speaker Paul Ryan touted what he called his biggest success in office. That was, of course, helping shepherd that deficit-ballooning tax bill through Congress in December, permanently cutting taxes for businesses and temporarily cutting them for individuals.
In 1998, Ryan was first elected to Congress at the age of 28, after working as a congressional aide and political speechwriter. He ascended quickly, becoming the ranking member of the House Budget Committee in 2007 and later taking the helm of the committee in 2011 after a massive wave catapulted Republicans to the majority. His conservative bonafides landed him on the GOP presidential ticket in 2012, when Republican nominee Mitt Romney chose him as his running-mate. Then in 2015, he reluctantly took the role of House speaker, after John Boehner's resignation.
However, over his 20-year congressional career, Ryan largely failed at implementing his goals of getting the country's debt under control by cutting social safety net spending, like food stamps, and reforming social safety net programs such as Social Security, Medicare and Medicaid — a crusade he's been on since he was first elected to the House in 1998.
In fact, the speaker will walk out of Washington leaving the Congress with a looming debt crisis on its hands, after Republicans passed the controversial tax reform bill that slashed revenue without cutting spending in a budget that actually increases military costs. This is precisely the opposite of what he'd attempted to achieve over his career in Congress.
During his tenure, Ryan has tried to enact deep cuts to Social Security benefits, both by reducing benefits and raising the age Americans become eligible to receive their payout, claiming the program meant as a safety net for retirees is on the path to insolvency.
After taking the helm of the House Budget Committee in 2011 — when Republicans regained the majority — Ryan released a budget that would have ended Medicare as we know it, raising the age of eligibility of the government-run program for the elderly and turning it into a voucher system. The nonpartisan Congressional Budget Office at the time said those changes would have increased costs for seniors.
In 2012, Ryan also wanted to make cuts to Medicaid, which provides health insurance to the poor, by turning it into a block grant program. The Center on Budget and Policy Priorities wrote at the time that Ryan's budget was "Robin Hood in reverse — on steroids."
"It would likely produce the largest redistribution of income from the bottom to the top in modern U.S. history and likely increase poverty and inequality more than any other budget in recent times (and possibly in the nation's history)," the CBPP said of Ryan's budget.
Ryan also crusaded against welfare, painting it as a crutch Americans would use to not work. "The biggest snag in the safety net is that it discourages work," he wrote in a 2014 policy paper.
Then, at the 2014 Conservative Political Action Conference, Ryan said Democrats push for welfare spending because they want to give people "the freedom not to work."
According to Greg Wawro, a professor of political science at Columbia University, part of the reason Ryan's policy moves failed was not only because entitlement reform is challenging, but because Americans didn't trust his motives for reform.
"When you're doing things like having massive tax cuts for the wealthy, and then trying to do entitlement reform after something like that, that makes it especially tricky because it raises the suspicion level," Wawro said in an interview.
Democrats, who campaigned against Ryan's proposed social safety net cuts in the 2012 election, are cheering Ryan's decision to retire from Congress.
"Here's what you need to know about Paul Ryan," Dan Pfeiffer, a former aide to former President Barack Obama, tweeted. "His main regret as he leaves Congress is that he failed to take health care away from more people."
Democrats said that despite his impending exit, they still plan to run against Ryan's ideas in the 2018 midterms.
"Paul Ryan spent his entire career trying to gut critical programs that the American people count on to have a fair shot at the American dream and a dignified retirement, and Republicans in Congress fully embraced his extreme views," Andrew Bates, a spokesman at the Democratic super PAC, American Bridge, said in a statement to Mic.
"Now, the only way to protect the economic security of the middle class and America's working families from Republicans like Donald Trump and Paul Ryan — who will use the skyrocketing deficits driven by their tax cuts for the rich to slash funding for the social safety net — is to break their full control of Washington this November," he added. 
That might not be a major challenge for Democrats, as Ryan said Wednesday he's not giving up on his eventual goal of revamping social safety net programs, or as he calls it, entitlement reform.
"Entitlement reform is the one other great thing that I've spent most of my career working on," Ryan said at a news conference Wednesday morning. "It really is entitlements. That's where the work needs to be done. And I'm going to keep fighting for that."