Janelle Monáe and Tessa Thompson are here to remind you that not all women have vaginas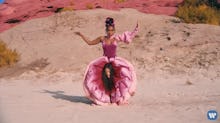 On Tuesday, Janelle Monáe dropped the music video for her song "Pynk," a collaboration with Grimes from Monáe's forthcoming album, Dirty Computer. The video for "Pynk" is, as the internet noticed pretty quickly, a vulva-centric celebration of vaginas, queerness and black women, with a guest appearance from Creed actress (and Monáe's suspected boo) Tessa Thompson.
The video is laden with innuendo and yonic visuals, including a moment where Thompson literally emerges from between Monáe's legs, which are clad in vulva-esque pants. But for all the celebration of vaginas, both Monáe and Thompson have, in promoting the video, been helpfully reminding us that not all women have vaginas and that vaginas aren't inherently a symbol of womanhood.
On Tuesday, when the music video dropped, Monáe tweeted out a message thanking Thompson, in which she also made sure to mention that the video was intended to be a celebration "no matter if you have a vagina or not."
Thompson also appeared in Monáe's music video for "Make Me Feel," another thematically queer piece of art that has been called "an eye-popping celebration of bisexuality." On Tuesday, tweeting about the release of the "Pynk" video, Thompson described her role in the clip as "me playing both a woman and a special part of some women." It's that "some women," a quick but essential acknowledgement that not all women have vaginas, that struck a chord with fans on Twitter, many of whom responded to thank Thompson for using trans-inclusive language.
She got more explicit about that inclusivity later on Tuesday. Retweeting a tweet that called the video for "Pynk" the Vagina Monologues for black girls, Thompson addressed a message to "all the black girls that need a monologue that don't have vaginas."
In the replies, one fan wrote, "I genuinely was wondering if we had a place in the conversation the two of you are creating. I'm a [trans woman of color] and thank you." Hopefully the apparent ease with which Thompson inserted inclusive language into her promotion of "Pynk" will inspire more cisgender celebrities and artists to take similar steps.