'RuPaul's Drag Race' season 10 episode 4: The end-of-days runway was out of this world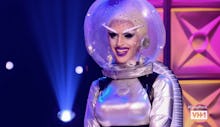 Hello, my plucky little plantains. Welcome to Fundamental Reading, the weekly column where we chat about RuPaul's Drag Race.
As much as I loved episode three's intense political discourse that overshadowed just about everything else, it was somewhat of a relief to get an episode focused so squarely on a stunning runway. So, let's talk about that.
RuPaul seems adamant on making a few of this season's main challenges politically relevant — but, like, in a fully ridiculous, Drag Race way. In episode two, Ru delivered biting commentary on America's ongoing opioid epidemic through a flurry of penis jokes in the PharmaRusical — and this week, the girls had to design three looks for a post-apocalyptic, climate change-inspired ball.
The three different runway themes were as follows: Alaskan Winter Realness, which featured mostly hot-weather beachwear; Miami Summer Realness, which highlighted fur coats and other cold-weather accoutrement; and Martian Eleganza Extravaganza, which was supposed to feature otherworldly, spacey, show-stopping looks. (Get it? Because climate change shifts weather patterns. You get it. OK.)
This week, RuPaul was clearly still suffering from whatever plague was ailing her in episode three — it was unmistakeable in the sound of her husky, muted voice. For her main runway look, Ru entirely skipped the process of hiding her puffy eyes with makeup, opting instead for the drag equivalent of wearing a paper bag over her head: Her entire face was covered in some kind of stretchy face mask, allowing only her exaggerated, plump, red lips to stick out. Just in case we might be able to see through that too, Ru finished the look off with a fashionable welding visor. In the process, she ended up looking a bit like Kevin the Cucumber. It's fine. We all have bad days. Get well soon, chica.
Much to my dismay, the judges didn't seem to be looking for the end-of-days theme to crop up in all three looks. Regardless, Here's how each queen did this week across all three of the runway challenges, in the order they appeared.
Mayhem Miller
Mayhem opened the Alaskan Winter Realness runway with a simple but respectable two-piece pink bathing suit adorned with a wavy black print. The main garment itself wasn't anything worth losing your wig over, but her flowy black wrap and pin-up-style wig made it work.
However, nothing about this look really tied into the overall theme of the night.
Mayhem's Miami Summer look was an incredibly striking, cutting-edge Ororo Munroe-style get-up. I was a little annoyed that the bright white contacts came back for the second week in a row, but I can't argue against this stunning look.
After seeing this last look of Mayhem's, I was a little gagged she didn't end up in the top. My guess is that it came down to her underwhelming first look, but this Martian Eleganza was outstanding. I'm starting to learn that I might just really like dramatic hoods.
Judges' final ranking: Safe.
Eureka O'Hara
Like Mayhem, Eureka's first look featured a swimsuit covered in a flowy wrap. Again, this one was fine, but nothing about it tied into the climate change theme.
I adored Eureka's Miami Summer look. The pastel, purple wig combined with her dripping metallic eye makeup was gorgeous. At the end of the day, the main garment was a bodysuit, which the judges typically don't love, but the fur detailing was on point.
Eureka's final Martian Eleganza look turned her into an intergalactic pope from Las Vegas, and I'm here for it. The hat — a fun take on her iconic loaf hairstyles — made her so tall she had to bend over at the waist to fit through the door.
Judges' final ranking: Safe.
Monét X Change
The judges really were not feeling Monét this week, which I only partly understand. For her Alaskan Winter Realness look, the judges remarked that it looked too homemade and overly simple. I get that, but Monét was also one of the only queens to actually incorporate a sci-fi aesthetic into the Alaskan Winter runway. The lines of the bathing suit were appealing and clean and it fit her perfectly. Her shockingly bright, neon wig offered a campy take on the irradiated hellscape we'll be living in within the century.
I think if Monét had swapped out the plain pumps for something more adventurous — and maybe added some kind of coat — she would've gotten more praise for this one.
Admittedly, Monét's second outfit wasn't my favorite of the wintry looks this week. I adored her makeup and the icy crown. The dress itself, however, was a little too simple and ready-to-wear looking, which she tried to counteract by having it bunched up at the beginning of the runway, releasing it down to the floor when she opened her coat.
I can see what Monét was going for with her Martian Eleganza look — a sort of "fallout shelter executive realness" vibe — but her craftsmanship on the dress let her down. It was some kind of quilted vinyl (I don't know things about fabric, sorry) that looked thick, like it'd be hard to sew into anything other than a pool cover.
Judges' final ranking: Bottom two.
Kameron Michaels
Kameron, like Mayhem and Eureka, also opted for a retro-style pin-up look for Alaskan Winter Realness. The strangest thing about this one, for me, was that Kameron appeared to be wearing some kind of nude bodysuit to cover her muscles.
One of the most interesting things about Kameron is her ability to live on opposite ends of the gender spectrum simultaneously. I would've loved seeing her masculine muscles and tattoos peeking out from under her ultra-feminine floral wrap. (For purely artistic reasons, of course.)
Kameron is at her strongest when she ventures into the fantastical, and her Miami Summer look was no exception. Her forehead was covered in an ornate, metallic crown-style headpiece, and the blue makeup around her eyes and mouth made it look as though she was freezing from the inside-out.
Kameron's Martian Eleganza was a bit more of a sci-fi mechanic's uniform than something you'd wear to a ball, but it was gorgeously designed. The glittery, metallic waistcoat fit her perfectly, and her headband and earrings looked as though they were made out of found materials, like she was some kind of futuristic garbage scrapper.
Judges' final ranking: High.
The Vixen
Thank god, a summery beachwear look that was actually futuristic in some way. This was probably The Vixen's strongest showing of the week. Her clear, metal-adorned bikini was high fashion and edgy in a way that none of the other girls were able to capture in this first challenge.
That massive fan also gave The Vixen the opportunity to "thwoorp" so good it probably sent a shiver down Katya's spine.
The Vixen's second look was a blue-and-white Victorian-inspired gown, capped off with a navy hood and dramatic, silver antlers. I liked this dress, but it was a little too The Lion, The Witch and The Wardrobe for this particular runway theme.
I liked the idea of The Vixen's final look, but the execution was lacking. I thought the silvery pant-legs were far too baggy. Not enough Fifth Element, too much Zenon: Girl of the 21st Century. If she had swapped out the pant legs for a more glamorous floor-length skirt, I would have been in love.
Judges' final ranking: Safe.
Aquaria
Aquaria's first look this week was an utterly absurd, luchador-inspired bikini, complete with a waist-length, platinum blonde braid sprouting from the top of her vinyl-clad skull. Though, to me, it was a little more Nacho Libre than lucha libre.
But, to her credit, her confident walk sold the hell out of it. Thankfully, it tied into a superhero aesthetic she later channeled in the final runway, and the judges ate it up.
Aquaria's second look was one of my favorites of the wintry runway. She looked like a haughty, glamorous Capitol citizen that Katniss Everdeen would love to use as target practice.
Aquaria's final look was sort of a super villain foil to her first outfit. There's no denying this look had incredible impact. Ru, in particular, has shown a love for Aquaria since the season began, and this look left her even more enamored. I don't really understand what this has to do with Mars, though.
Judges' final ranking: Winner, winner, chicken... dinner.
Dusty Ray Bottoms
Dusty's first look this week emphasized a problem she's had on multiple occasions: The neck-up is divine, but the rest of her body felt like an afterthought.
Dusty's Miami Summer look was a vast improvement over Alaskan Winter. She opted for an evil-queen-of-winter sort of look, but I appreciated her efforts to make it sci-fi by braiding lights into her wig. They didn't read at all on the stage, though.
But the cold, frozen heart in her left palm was a delightful choice.
The judges really hated Dusty's final look, but I don't fully agree. They said it was too fairy-ish and not Martian, but it seemed just as valid an interpretation of Mars as Aquaria's supervillain. I don't know, folks. I call rigga morris.
Judges' final ranking: Bottom two.
Monique Heart
Monique hilariously described this first look as being inspired by Beyoncé, simply because she says the word "watermelon" in "Drunk in Love." (She said it was from Lemonade, which it's not. Sorry to be that guy. It's a cute outfit, though.)
I didn't care for this look. If you're going to do a heavy, pink, furry hat and sleeves, you need to balance it out by going slimmer on the bottom. Instead, Monique opted for billowy, cotton candy-pink pajama pants.
There's a great look hidden in here somewhere, but it needs work.
Monique's final look redeemed her this week. Once she shed her silver outer coat, she revealed a sequined, dark green gown with a plunging neckline, which she accessorized with an oversized, tinted visor. She looked like the futuristic love child of Mary J. Blige and J. Lo.
Judges' final ranking: Safe.
Blair St. Clair
Oh, look: another retro-style pin-up swimwear look. Groundbreaking.
I totally get that Blair's whole thing is mid-century Broadway glamour, but that's simply not what this runway challenge was about. Michelle Visage, in particular, has a habit of demanding queens step out of their comfort zones — she already did so this season when Dusty emerged on the runway with her iconic dot-style makeup in the first episode of the season. Needless to say, I'm surprised Blair hasn't been held to the same standard yet, especially for adhering to her signature retro style in a challenge that was literally all about envisioning a post-apocalyptic future.
Blair finally embraced the theme of this episode's runway with her last look, and it was a stunner. She looked like an Austin Powers fembot from the 23rd century. The pink, glittery makeup on her cheekbones just barely brought her into the alien realm without going totally overboard. I dug it.
Judges' final ranking: Safe.
Asia O'Hara
Asia, honey. What was this? I'll tell you what it was: It was a brown one-piece swimsuit with puff balls from Joann Fabric hot-glued to it.
Her argument on the runway was that she spent so much time helping other girls with their outfits that she didn't have time for her own — which, OK — but yikes.
Asia's second look was a vast improvement over the first. Here, the neon power-clashing she was trying to pull off in the first look finally came together. I have nothing bad to say about this. The fur coat was absolutely heinous, and I adore it.
I can only describe Asia O'Hara's final look as "sexy oompa loompa X-Ray technician" — and that's a compliment. I love the absurd, campy, retro-futurist aesthetic here. The tailoring on the coat was a little sloppy, but I think the conceptual ambition made up for it.
Judges' final ranking: Bottom three.
Miz Cracker
Alaskan Winter was Cracker's weakest look this episode. Her goofy facial expressions helped sell it, but I still feel like it was underwhelming. The impressive part was that the bikini was braided with blonde wig hair, but the end result couldn't help but feel a bit "blah."
Cracker's Miami Summer was exactly what Monique's should've looked like. Cracker looked like a neon pink cadet Barbie. It was absurd and hilarious, but immaculately made and perfectly in line with the wackadoodle, futuristic theme.
Cracker's final look was crazy good. It would've been easy to rest on the visual punch that a space helmet provides, but she completely nailed this whole thing. Beneath her helmet, she was wearing cartoon-y, angular white eyebrows and a neon purple lip, which tied in perfectly with her over-long fingernails.
Judges' final ranking: High.
Monét and Dusty made up the bottom two this week and faced off in an incredibly good lip sync to a not-so-incredible song: "Pound the Alarm" by Nicki Minaj.
Though her looks were underwhelming, Monét handily proved she belonged by turning out a hilarious performance, most notably when she acted as though she were about to drop into a full split, only to just barely hop off the ground.
She did eventually deliver the goods, though.
Once the lip sync ended, Ru said, "For the ladies watching from the back, that is what we call a lip sync for your life," and she wasn't lying.
Ultimately, Ru deemed Monét the winner, sending Dusty home.
As is the case every week, Mic will have an exit interview with the eliminated queen. Stay tuned for our chat with Dusty.