Sean Hannity devotes his show to a coordinated attack on the Russia investigation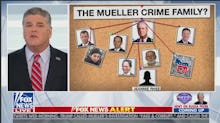 Welcome to Mic's daily read on Donald Trump's America. Want to receive this as a daily email in your inbox? Subscribe here.
Good morning from Emily Singer at Mic.
Here's what's happening in Trump's America:
• Trump recruits Fox News host Sean Hannity to help him make the case to fire special counsel Robert Mueller.
About last night: Trump encourages America to watch Sean Hannity's show
Fox News host Sean Hannity aired a conspiratorial program Wednesday night that attacked the credibility of special counsel Robert Mueller as well as former FBI Director James Comey, and featured guests who made the case for firing Deputy Attorney General Rod Rosenstein — who stands in the way of Trump firing Mueller.
Aside from airing graphics tying Mueller and Comey to criminals such as mob boss Whitey Bulger, Hannity had on Trump defenders Alan Dershowitz and Joseph E. diGenova (who had a short-lived stint on Trump's legal team).
DiGenova called Mueller's team "a bunch of legal terrorists" and said they are trying to goad Trump into a "perjury trap." He added that Attorney General Jeff Sessions should fire Rosenstein — a move that would allow Trump to put in a new deputy attorney general who could either fire Mueller or try and hinder Mueller's investigation.
The attacks appear to have been a coordinated attack on the Russia investigation.
Trump tweeted a plug for Hannity's show Wednesday evening,
"Big show tonight on @seanhannity!" Trump tweeted. "9:00 P.M. on @FoxNews."
The show comes after the FBI raided the office, home and hotel room of Trump's personal attorney Michael Cohen on a referral from Mueller's team. The raid has set Trump off, and has White House aides worried Trump may actually fire Mueller or Deputy Attorney General Rod Rosenstein — who oversees the Mueller investigation.
White House press secretary Sarah Huckabee Sanders on Wednesday refused to say whether Trump was considering firing Mueller, and instead said she didn't have any "personnel announcements" to make.
Sanders added that Trump has "very deep concern about the direction that the special counsel and other investigations have taken."
The fears that Trump may fire Mueller are so real that a group of Republican senators are breaking rank to draft a bill that would protect Mueller's job, and Senate Judiciary Chairman Chuck Grassley (R-Iowa) is allowing for debate on it in his committee — a major step and a sign Senate Republicans are worried Trump might actually fire the special counsel.
CNN also reported the Republican National Committee is planning a coordinated assault on Comey ahead of an interview he gave ABC News in which Comey compares Trump to a mob boss. The interview, which airs at 10 p.m. Eastern on Sunday, is said to be shocking, according to Axios.
Today in Trump's America: Still waiting on a Syria response
Trump on Thursday morning walked back his threat that the U.S. was preparing to launch missile strikes in Syria.
"Never said when an attack on Syria would take place," Trump tweeted. "Could be very soon or not so soon at all! In any event, the United States, under my Administration, has done a great job of ridding the region of ISIS. Where is our 'Thank you America?'"
His tweet comes after a tweet Wednesday, in which Trump seemed to announce missile strikes were headed to Syria in response to the chemical weapons attack Syrian President Bashar Assad is suspected of carrying out against his own people.
Trump's announcement that missiles were on the way led many to question why Trump was ditching his vow to keep his military plans secret, so as not to tip off the enemy.
He often attacked former President Barack Obama for announcing his military plans before carrying them out.
"In war, the elememt of surprise is sooooo important," Trump tweeted in 2013. "What the hell is Obama doing."
Capitol Hill happenings: Confirmation hearings begin for Mike Pompeo
Pompeo will be grilled by the Senate Foreign Relations committee on Thursday morning, when he begins his confirmation hearing to be the next secretary of state.
Pompeo will paint himself as a team player who will seek input from Congress, according to excerpts of his testimony released by the White House.
Pompeo will also talk about improving the culture at the State Department, which took a hit under now-former Secretary of State Rex Tillerson.
And he'll defend himself against senators who say he's a warmonger.
"I know firsthand the painful sacrifices of our men and women in uniform. So when journalists, most of whom have never met me, label me — or any of you — as 'hawks,' 'war hardliners,' or worse, I shake my head," Pompeo will say, according to the excerpts.
"There are few who dread war more than those of us who have served in uniform. And there is a great deal of room between a military presence and war. War is always the last resort. I would prefer achieving the president's foreign policy goals with unrelenting diplomacy rather than by sending young men and women to war," the excerpt reads.
The biggest fireworks may come when senators inevitably press Pompeo about why he failed to disclose a connection to a Chinese business during his CIA confirmation hearing.
This is not Pompeo's first time in the Senate hearing hot seat. He went through this same kind of grilling last January, when he was vetted and ultimately confirmed as CIA director.
And the rest…
Paul Ryan: Ryan announced Wednesday he won't run for re-election in November, but vowed to finish the rest of his term, which expires in January. But speculation abounds on Capitol Hill that Ryan will be forced to leave earlier than that.
Access Hollywood tape still haunts Trump: The FBI sought information on the now infamous Access Hollywood tape when it raided Cohen's personal residence and office, the New York Times reported. According to the report, the FBI is looking into whether Cohen, who was not part of Trump's campaign, coordinated with the campaign to squash negative information that could have hurt Trump's electoral chances.
GOP Missouri Gov. Eric Greitens is facing calls to resign, after the Republican-controlled state legislature released a report detailing allegations from a woman who says she had a non-consensual sexual encounter with Greitens.
Gender identity bill: Voters in Anchorage are poised to become the first in the country to repeal a bill that requires people to use bathrooms that coincide with their gender assigned at birth. These bills target transgender individuals, preventing them from using facilities that correspond to their gender identity.