'RuPaul's Drag Race' season 10, episode 4: Dusty Ray Bottoms exit interview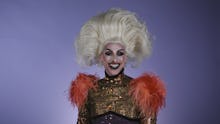 Four down, nine to go.
Another New York queen bites the dust. So it was written and so it was done on Thursday night's episode of RuPaul's Drag Race when Dusty Ray Bottoms became the latest queen knocked out of the competition.
But unlike last week, when fellow New York queen Yuhua Hamasaki was eliminated, this was more a case of someone needing to go than Dusty Ray failing to take off. With a crop of queens so on point so early on, season 10 (unlike, say season six, which seemed like Bianca Del Rio's title to claim from the get-go) seems like just about anyone's game.
Dusty Ray Bottoms failed to impress the judges on the runway. "Disappointing," judge Ross Mathews said of Bottoms' three runway looks. "All of them were just off the mark a little bit."
"Dusty Ray Bottoms just hit the bottom for me," guest judge Tisha Campbell-Martin added. And so, through arguably the best lip sync of the season, Dusty did not manage to prove a verse queen, and remained on a bottom, thus exiting the competition.
Mic spoke with Bottoms following Thursday night's episode about the elimination and what's next for her drag career.
Mic: Gotta start with a very original question: How are you feeling this morning?
Dusty Ray Bottoms: I am really great. I feel very relieved. I feel like my elimination was a burst, really, and I now have this opportunity to create cool new shit, like my new song. I just feel very lucky, very grateful for my run. I feel like I handled myself very well and very diplomatically and I'm just ready to spread the dots all over the world.
Where did you watch the show, and how did those you were with react?
DRB: I had a viewing party in the East Village at VNYL and it was great. A lot of my supporters came through. It was a hard watch. I was confused by the ending. I didn't think I deserved to be in the bottom. I thought Ru was going to keep us both. Yet I still go home. Everyone was like, "What? Whaaaat?" And I was feeling the same way. But they were thinking the same thing I was thinking, which is that we have each other, and they were all very supportive. And then I played my new music video and we jumped around. It was a really great night.
I want to talk about episode three for a moment, in which you shared details about your troubled relationship with your parents and your time in conversion therapy. What was that like sharing that with the other girls, and by proxy, the world?
DRB: It was a very hard thing to do. The story is a very long story and unfortunately you're only able to see really 30 seconds of it. I was very afraid that I wouldn't be able to tell it in a diplomatic, kind way without hurting or dragging anyone. But I thought it was important that my story was told. The response has been overwhelming. I've had hundreds of emails coming in every day that I haven't been able to read; I haven't been able to respond to all of them saying that they are going through it now or they went through it years ago. I was heard. People were touched by it and I just want them to know that they are loved and they can achieve their dreams and find success and love and that they are valid people.
Is there a specific fan response to that episode that stands out for you?
DRB: I've had a couple of kids reach out, saying that they are 15, 13, and this is how I'm feeling. Sometimes you don't have the words, but I tell them to stay strong, this is just for now, right now, this can't last forever. I try and show them all the love and support that I can.
Let's talk about your relationship with Aquaria. Things weren't looking so hot last week, when you called her out for being standoffish prior to the competition, but this week you two seemed to find common ground.
DRB: Yeah, absolutely! Aquaria and I had worked together before the show and our working together was fine. I said what I had to say about it. With that talk that we had on Untucked you weren't able to see the full story with that where Aquaria and I had a back and forth and talked through the things we went through together and we were both in tears, we both got up, we both hugged each other, we made amends. You didn't get to see that on episode three, but it definitely showed through on last night's episode — that she was serious about making things right. I've worked with Aquaria since I've been home and I have nothing but love and respect for my sister and I'm glad that we have the relationship that we do now.
Who are you rooting for this season now that you're gone?
DRB: I'm telling you, season 10 really brought it this year. The cast is so brilliantly cast. Everyone is an A+ player that is left there. I love Monique Heart. I would definitely watch out for her. Watch out for Miz Cracker, I love her. Monét, Aquaria, Asia, Vixen, Mayhem — these people inspire me. I love their work.
Looking back at this experience as a whole (both the filming and the airing of the episodes), what was the high and what was the low?
DRB: My high was definitely the acting challenge that I was in — any challenge that I did, I slayed on. My episode two runway slayed, I'm so proud of that. My only low that I had was my feather look. The feather look was not what I wanted, it's just how it happened. I have to own it. It cut off my head so you couldn't see everything, but that's how the cookie crumbled that night and we were very lucky that she was safe. But I think during my short stay on the four episodes, I really did well on all the challenges and went balls to the wall, and that would be my only misstep.
What's it like experiencing this rush of fame that now comes with the show despite where one queen places in the competition itself?
DRB: I feel like I'm in The Twilight Zone sometimes, I don't even feel like it's real. I'm gagged every day by it, when I see that my followers go up another thousand and I'm getting messages from someone saying "I just did a gig in Denver," and to look out in the audience and see 30 to 40 people with my makeup on their face, with dots on their face, and with the "Neva Lavd Yah" sign... I was just so gagged. It's literally the craziest ride. The highs are really high and they feel really great, but the lows are equally blows to the stomach. But you learn how to cross your fingers and say "Neva Lavd Yah" and you dance on into ignorant bliss.
What's next for Dusty Ray Bottoms?
DRB: [starts coughing] Let me gag myself before I tell you. I'm coming out with more music. I'm going to travel the world singing my song, spreading the dots. And then the whole angle with Dusty and this whole experience, my fiancé and I — who will me my husband by then — we would love to open queer spaces across the country that are safe places to create queer art. I want to be the Cher to my own Burlesque and have a cast of girls who can keep their costumes there and everything. That's the goal. That's the fantasy.
Check out Mic's exit interviews with week one eliminated queen Vanessa Vanjie Mateo, week two's eliminated queen Kalorie Karbdashian Williams and week three's eliminated queen Yuhua Hamasaki.