In Washington state, this county is making big strides toward reforming its juvenile justice system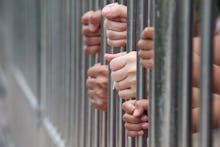 As a high school sophomore, Jahila Moody had a 3.7 GPA and spent every spare minute at her local dance studio. She was doing so well her family decided she should return to Seattle after spending two years in California with her sister.
By the end of her junior year, she had been suspended from school, charged with a felony and misdemeanor, and was in danger of not graduating from high school.
At 15, she turned to theft and drug dealing because she didn't see any other way to provide for herself. "I'm the baby [in my family] and everyone else had moved out," Moody, who is now 18, said in an interview with Mic. "My mom stopped doing as much as she normally would."
She subsequently experienced unstable living conditions. "My junior and senior year I had to live with my boyfriend because I had no place to live," she said. "My mom … called me. She's like, 'You better find a place to live because the apartment we're trying to get is not going to let us move in.' I was 16, [and] hearing that made me sad. But then I was like, I just got to provide for myself. I gotta do what I gotta do for me."
Moody doesn't hold it against her mom, however. "She's gone through trauma her entire life too," she explains.
Moody was given a second chance thanks to a referral to a program designed to keep youth out of the criminal justice system. Her criminal charges were diverted, and she was put in touch with Dominique "Dom" Davis, founder and CEO of Community Passageways, an organization that provides support to youth who have been charged with felonies.
Community Passageways takes a therapeutic and restorative justice approach to keeping kids out of the criminal justice system, and makes sure those who are already incarcerated are provided the support and resources they need. It's the kind of program that executives in Washington state's King County would like to see more of, as it's one of the first jurisdictions in the country to apply a public health lens to juvenile justice. The public health approach is driven by insights about adolescent brain development and how this might impact behavior. Studies have shown that while young people between 18 and 21 might do as well as adults on a cognition test, they lack the same emotional control and are more likely to act impulsively. Other research suggests that the human brain does not reach full maturity until at least the mid-20s.
In November, King County executive Dow Constantine signed an executive order that moves juvenile justice from the purview of the Department of Corrections to the public health department. This was on the heels of another executive order transferring all youth under 18 who have been charged as adults from adult facilities to King County's Youth Services Center, which offers more support services for juveniles. In December, the King County Council also banned solitary confinement for minors.
"We are making a difference in the lives of young people," Constantine said in a state of the county address in early April, where he mentioned Davis and his work with Moody and Community Passageways. "We will do everything in our power to make sure young people who have been hurt, have the chance to heal — and those who may have stumbled are able to catch their step, regain their balance and find their stride."
Many of the programs under the broader public health initiative are funded through Best Starts For Kids, a cornerstone of Constantine's juvenile justice reform that focuses on prevention and early intervention strategies for people under age 24. The campaign, which includes specific measures targeting youth most at risk for entering the justice system, is financed by a six-year, $400 million property tax levy that went into effect in January 2016.
One of the county's first-of-its-kind pilot programs includes Community Passageways-Family Integrated Transitions, which has trained youth ambassadors to provide behavioral intervention that addresses factors related to delinquency.
According to Davis, mentors working with his organization will receive training at the University of Washington's Division of Public Behavioral Health and Justice Policy. "They'll all be certified to go in and work with 45 to 50 kids that are either in the criminal justice system or are on the way to the criminal justice system," he said in an interview with Mic.
Moody is now doing an internship at UW and will assist with data gathering and analysis of the CP-Fit program. She credits it to her relationship with Davis and Community Passageways. "He had faith in me when I didn't have faith in myself," she said.
One underlying idea of the public health approach is that juveniles ought to be treated differently than adults. As a result, King County is currently reviewing its "auto-decline" cases. Under Washington state law, 16- and 17-year olds who commit certain types of felonies are automatically treated as adults. In 2016, King County automatically charged 30 juveniles as adults, all of whom were youth of color.
"It's a statutorily mandated requirement [in Washington] that youth over the age of 16 that commit a violent offense have to be serviced in the adult system," Marcus Stubblefield, criminal justice strategy and policy section manager at the King County executive office, said in an interview with Mic. "What we're saying is since we now know the science behind it ... we're doing them an injustice."
The transition to a public health approach is in tandem with King County's zero youth detention initiative. Constantine said in a January 2017 statement that he was asking King County to aim for a "goal of zero youth detention, with the mission of creating a community where detention for young people is no longer needed."
"What we're trying to do is to shift from this incarceration-based approach that actually potentially inflicts more trauma, to looking at where that trauma comes from in the first place," Patty Hayes, King County director of public health, said in an interview with Mic.
"Part of the public health approach to really look at what is that [youth's] life experience so that we're providing age-appropriate, more therapeutic approaches in everything we do."
In Moody's case, several members of her family, including her father, are incarcerated. "It's literally a cycle," she said. "All [they] are doing is locking my [older] brother up, and my dad up. ... It's easy to just smack down [a sentence] and be like five years, 10 years, but you don't know what trauma someone's been through in their life to make them the way that they are."
The public health approach comes at a time when King County is in the process of building a new $210 million Children and Family Justice Center, scheduled to open in Seattle in 2020. While there's a clear need to replace the current Youth Services Center, a crumbling facility that houses secure detention and juvenile court in Seattle's Central District, the construction of a new juvenile justice center seems at odds with the county's goal of zero youth detention, according to some critics.
While King County deputy executive Rhonda Berry, who oversees the zero youth detention drive, acknowledges that the target of having no young people in juvenile detention is aspirational, she says that it's a necessary goal. "We talk about alternatives to detention," Berry said. "We want to get to the point where detention is the alternative, and secure detention as the alternative of last resort."
King County has made progress toward this goal against some benchmarks, with one of the lowest youth detention rates of any urban county in the United States, according to a recent assessment. Between 2005 and 2014, King County filed 57% fewer cases in court and lowered detention admissions by 48%. King County also reduced juvenile offender filings by 77% between 2000 and 2016.
Part of the public health approach involves reducing racial disparities in the arrest and detention rates of young people of color. However, while King County has reduced detention for all races, the juvenile justice system disproportionately impacts black and brown kids. While the overall number of youth in custody has dropped (down from an average daily population of 187 in 1998 to 51 in 2016), the percentage of youth of color going to jail has increased.
In 2016, 50% of juveniles in secure detention were black and 19% were Hispanic. In comparison, African Americans make up only 6% and Hispanics 9% of the nearly 2 million residents in King County, according to 2010 U.S. Census data.
"As young people process through our system, the disparity increases for kids of color at every decision-making point," Stubblefield said. "They are seven to nine times more likely to be contacted by law enforcement. They're nine to 11 times more likely to be filed on when [their case] hits the prosecutor's office. They are 13 times more likely to be retained in detention for lesser crimes."
Stubblefield said that King County has, in the last few years, implemented specific strategies that are targeted at keeping black youth out of the system, including law enforcement training and restorative justice practices — and absolute numbers have decreased.
King County was the first jurisdiction in the country to have a reduction in young black men in the justice system, according to Stubblefield. However, black kids weren't the ones who saw the most benefit from interventions. As a result, the new public health approach further hones measures targeted at specific populations using data and assessment.
"For every program we rolled out, even if we designed it for African-Americans, the ones that benefited the most were Caucasian young people," Stubblefield said.
Officials and representatives of community-based organizations are optimistic about King County's public health approach for the kids they work with.
"This is a chance for us to go from a punitive system to a healing system," Davis said. "Our kids … are not perpetrators. They are victims of adult actions. I'm hoping that the public health lens gives us an opportunity to start seeing what's going on in the schools, what's going on in the communities and what's going on in homes and start going through a process of addressing the root causes that are causing our young people to fall into the system."
Moody's story underscores the importance of addressing the factors underlying why she almost ended up in the juvenile justice system in the first place. With support from Community Passageways, she was able to graduate on time and now hopes to own her own dance studio one day. She explained the difference that early intervention could have for her peers.
"We're not exposed to new opportunities," Moody said. "But [Davis] is trying to expose us to something new and better. There's a better life than running in the streets and selling dope. But we needed someone to show us that."