A Tennessee student turned her prom dress into a tribute to the black women who inspire her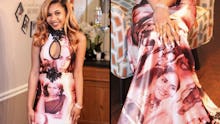 Skyler Branch, a high school student in Memphis, Tennessee, wanted her prom dress to be more than just a prom dress. She wanted to use the dress to pay tribute to the most influential and inspiring black women in her life.
Posting photos of the dress on Instagram on Sunday, Branch wrote, "I decided I wanted to take all the black queens that made a difference in my life to prom [with] me."
"I think I accomplished just that," she concluded.
Skyler's mother, Dayna Branch, told Yahoo Lifestyle the idea came to Skyler after one of her great-grandmothers died. "She said, 'Mom, there's been so many extraordinary African-American women who have done so much for me,'" Dayna Branch told Yahoo Lifestyle. "'I want to show them some respect so that they know that not just the older adults but the younger adults appreciate who paved the way.' ... And she found different pictures of all of the people who she wanted on the dress."
Working with a local seamstress, the Branches first created the fabric: a pink satin that was used like a canvas for the women's faces to be printed on. So there are the faces of Maya Angelou, Michelle Obama, Halle Berry and Oprah right near Branch's great-great-grandmothers, great grandmothers, grandmothers and aunts.
Then the dress was cut into a halter silhouette and styled with a keyhole accent and black lace adornments.
"When I first saw the dress I cried and then I put it on and I fell in love with it all over again," Skyler told Mic in an email. "Once I got to prom everyone loved the dress. They all thought it was very unique and I got asked numerous times who was all on it."
Branch said she was inspired by a dress created last year by Florida high schooler Milan Morris and designer Terrence Torrence, which featured the faces of Trayvon Martin, Sandra Bland and Michael Brown as a way to make a powerful statement about police brutality and its victims.
Skyler's dress, however, is more a celebration of some of the most groundbreaking and inspiring black women in America and in her own life.
One face on the dress is that of Dr. Alfreda Johnson Webb, America's first black female veterinarian, Yahoo Lifestyle reported. In the fall, Branch will be taking pre-vet studies.