Traveling solo while LGBTQ can be dangerous — these tips can help overcome barriers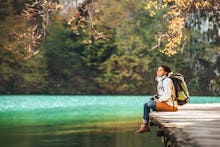 An increasing number of people want to see the world — and many of them want to do it alone. A survey conducted by MMGY Global found that 1 in 4 people would solo travel in 2018, and there's a growing market of tech and tours for these independent adventure seekers.
The travel industry is seeing an uptick in female solo travelers in particular. And much has been said about safety practices for women traveling alone, from sharing your itinerary to concealing cash in a tampon applicator.
But additional safety precautions are often required when you're part of the LGBTQ community. "The potential dangers that a straight, cisgender woman might experience on the road are often considerably different than the risks associated with being gay, transgender and/or nonbinary in a foreign country, but they all share an implicit threat of violence," wrote Steph Koyfman of Babbel — a language-learning app — in a three-part guide dedicated to solo female and LGBTQ travel.
Fortunately, as Koyfman put it, "though many parts of the world are still considered unsafe for women and LGBTQ people to travel to (alone, or even in a group), bloggers and influential travelers are leading by example and walking through doors that were previously assumed closed." And these adventurers are sharing tips along the way.
"If your gender presentation doesn't match your legal documents, have an explanation prepared in case it ever comes up at a border crossing or airport security (and it has happened to me, more than I would like)," Taylan Stulting, writer of The Trans Traveller told Babbel.
Another logistical situation to plan for? Language. "It's good for trans travelers, especially those who plan on spending time in queer and trans spaces, to know how to communicate their [pronouns] and ask for others' gender pronouns in the local language," Bani Amor, a queer travel writer, explained. "This can also be useful for dealing with authorities."
Beyond pronouns, it can be helpful to know how to ask about safety in another language. Questions and statements like, "What's the safest way for me to get around town?" and "Stop the car, please," can be useful in multiple situations. Babbel translated some of these critical lines into nine different languages.
And while we'd all like to be able to go wherever, whenever, it's always smart to study up on a destination's safety elements before embarking on a midnight stroll. "It's worth doing a bit of research to find out if a destination might be a risky place to walk around at night, for example, and then plan to stay in [an] accommodation that's really central or easy to reach without a long walk," Amanda Kendle, the writer behind I'm Not a Ballerina, said.