"Untruthful slime ball": Trump lashes out at Comey after Comey publishes explosive book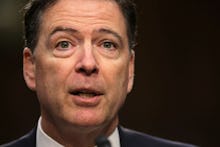 Welcome to Mic's daily read on Donald Trump's America. Want to receive this as a daily email in your inbox? Subscribe here.
Good morning from Emily Singer at Mic.
Here's what's happening in Trump's America:
• Former FBI Director James Comey's book was released to reporters, and its contents are likely to make Trump angry.
About last night: Comey unloads on Trump in new book
Reporters got their hands on Comey's long-awaited book and found that the former FBI director has little good to say about the commander-in-chief nor the folks he's surrounded himself with in the West Wing.
The book, which will be released to the public Tuesday, is already dominating cable news chatter. And since Trump is an avid cable news watcher, he's already responded on Twitter.
"James Comey is a proven LEAKER & LIAR," Trump tweeted. "Virtually everyone in Washington thought he should be fired for the terrible job he did-until he was, in fact, fired. He leaked CLASSIFIED information, for which he should be prosecuted. He lied to Congress under OATH."
Trump continued: "He is a weak and untruthful slime ball who was, as time has proven, a terrible Director of the FBI. His handling of the Crooked Hillary Clinton case, and the events surrounding it, will go down as one of the worst "botch jobs" of history. It was my great honor to fire James Comey!"
Even if Trump himself doesn't lash out, the Republican National Committee is running a campaign to try and discredit Comey, launching a "Lyin' Comey" website.
According to the Washington Post, which obtained a copy of the book, Comey called Trump an "unethical" liar who is "untethered to the truth" and has surrounded himself with other liars.
He describes Trump as a mob boss, says the way Trump is running the country is "not normal" and seems to blame Republican lawmakers for not standing up to Trump, saying it's "wrong to stand idly by, or worse, to stay silent when you know better, while a president brazenly seeks to undermine public confidence in law enforcement institutions that were established to keep our leaders in check."
In the book, Comey describes Trump's fixation with disproving the pee tape allegation in the Steele dossier, saying that Trump wanted the FBI to investigate the claim to prove it wasn't true because the allegation upset first lady Melania Trump.
"I'm a germaphobe," Trump told Comey. "There's no way I would let people pee on each other around me. No way."
Comey also talks about the meeting in which Trump asked Comey to drop the investigation into now former national security adviser Michael Flynn, saying he regrets not telling Trump the request was wrong.
Ultimately, Comey says he's not sure whether Trump will be charged with obstructing justice.
"I have one perspective on the behavior I saw, which while disturbing and violating basic norms of ethical leadership, may fall short of being illegal," Comey says in the book.
Comey already gave an interview on the book to ABC's George Stephanopoulos, which will air at 10 p.m. Eastern on Sunday, and Axios said it left Stephanopoulos and others in the room "stunned."
Today in Trump's America: Will Trump fire Rosenstein?
It's Friday the 13th, and the possibility of a news dump on steroids hangs over Washington, as Trump's aides fear he may fire Deputy Attorney General Rod Rosenstein.
CNN reported the White House is preparing talking points to try and discredit Rosenstein, who oversees special counsel Robert Mueller's investigation.
Trump is furious with the Russia investigation after it led to an FBI raid of the office and home of his personal attorney, Michael Cohen. The raid of one of Trump's closest confidants is an existential threat to Trump's presidency.
Rosenstein traveled to the White House on Thursday, raising eyebrows about whether Trump may have been firing Rosenstein then and there.
Rosenstein, however, left with his job and was said to be at the White House to brief them on congressional document requests related to the Russia investigation.
Capitol Hill happenings: Pompeo's past comments on same-sex marriage, Islamophobia come back to bite him
CIA Director Mike Pompeo underwent his confirmation hearing Thursday for his nomination for secretary of state, a hearing that left him battered and bruised as he was grilled on his stance on same-sex marriage and past Islamophobic remarks.
In a heated exchange, Sen. Cory Booker (D-N.J.) brought up a past comment in which Pompeo called homosexuality a "perversion."
Booker: "Is being gay a perversion?"
Pompeo: "Senator, when I was a politician, I had a very clear view on whether it was appropriate for two same-sex persons to marry. I stand by that."
Booker: "So, you do not believe that it's appropriate for two gay people to marry?"
Pompeo: "Senator, I continue to hold that view."
Booker also asked Pompeo about his ties to Islamophobic figures such as Frank Gaffney.
Booker: "[Gaffney] has talked about Muslims who abide by the adherence of their faith should be considered to be tried for acts of sedition and should be prosecuted. Did you remain silent when you were on his show? Because I have a lot of his statements here. Did you remain silent? And from my notes, at least, you're a friend of his. Were you silent in your position of authority in these words that be violative of the American constitution?"
Pompeo: "Sir, my record on this is unambiguous."
Booker: "Sir, then if that's your response, you did not say anything to call out his remarks."
Democratic Sens. Tim Kaine of Virginia and Jeanne Shaheen of New Hampshire told CNN they have concerns with Pompeo and may not vote for his confirmation. Sen. Rand Paul (R-Ky.) also told CNN he's opposed to Pompeo's nomination. If all three senators vote against recommending Pompeo out of the Senate Foreign Relations Committee, his nomination would not receive a favorable recommendation — something CNN says hasn't happened since 1925.
That doesn't mean Pompeo's final confirmation would be thwarted, however.
Republican lawmakers could still choose to put Pompeo's nomination to the full Senate, even without a favorable recommendation.
And the rest…
Whiplash: Trump told a group of farm-state governors and members of Congress that he's thinking about rejoining the Trans-Pacific Partnership trade agreement he once called a "rape of our country." Of course, Trump often tells people what they want to hear in meetings (remember when he said he would "take the heat" on immigration reform and that he would sign off on strict gun control measures, before quickly reversing course on both issues?). Many assume his comments on the TPP will follow the same course.
What year is it? Trump will pardon Scooter Libby, the former chief of staff to former Vice President Dick Cheney. Libby was convicted of perjury, lying to the FBI and obstruction of in 2007 after an investigation from a special counsel. The pardon, 11 years after the case, comes after Trump himself has had multiple former aides plead guilty to lying to the FBI thanks to a special counsel investigation, suggesting the pardon is a political statement. Trump himself is also under investigation for possible obstruction of justice.
Unbalanced budget: The House failed to pass a balanced budget amendment to the Constitution on Thursday. Here's why the vote was a hypocritical charade.