Who's Sorry This Week? Tony Robbins, Pope Francis and other public apologies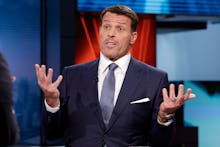 Another week, another deluge of apologies.
In Who's Sorry This Week?, Mic tracks down the most prominent mea culpas from celebrities, companies and other public entities trying to make amends for their various screw-ups.
This week had no shortage of apologies, so let's get right to it.
Pope Francis is sorry for accusing sexual abuse victims in Chile of slander
In 2015, Pope Francis appointed Bishop Juan Barros to the diocese in Osorno, Chile, despite reports that Barros had helped cover up alleged sexual abuse by Rev. Fernando Karadima. The Vatican found Karadima guilty in 2011 of abusing dozens of minors for decades, according to Catholic News Service.
During a visit to Chile in January, Pope Francis called the accusations against Barros "calumny," citing a lack of evidence against him. Given the well-documented history of child abuse at the hands of those in the Catholic clergy, the pope's support for Barros was met with "anger and demonstrations in Chile, where several churches [were] firebombed," according to NPR.
Following that trip, the pope launched an investigation into Barros' involvement in Karadima's pattern of abuse, which yielded "more than 2,300 pages of documentation" as well as the testimony of 64 people, according to Catholic News Service. After reviewing the documentation, the pope released a lengthy letter Wednesday apologizing for his mishandling of the situation.
"I ask forgiveness of all those I have offended and I hope to be able to do it personally in the coming weeks," the pope said, according to NPR.
The letter did not clarify whether Barros would maintain his post.
Tony Robbins is sorry for making disparaging remarks about the #MeToo movement
Motivational speaker Tony Robbins came under fire April 6 when a video on the NowThis Facebook page — in which he disparaged the #MeToo movement during a self-help seminar in San Jose, California, in March — went viral.
In the video, Robbins said the #MeToo movement was simply rooted in "anger" and suggested it was unfairly affecting men in positions of power.
"I was with someone the other day — very famous man, very powerful man — he's saying how stressed he is because he interviewed three people that day," Robbins said in the video. "One was a woman, two were men. The woman was better qualified, but she was very attractive and he knew, 'I can't have her around because it's too big of a risk,' and he hired somebody else. I've had a dozen men tell me this."
One of the attendees, Nanine McCool, called Robbins out, saying he "misunderstand[s] the #MeToo movement," which seeks to empower victims of sexual abuse to speak out against their attackers.
"You're a leader and an influential man, and you are doing a disservice, in my opinion, to the #MeToo movement," McCool said to Robbins.
Robbins posted an apology for his comments on Twitter on Sunday.
"I apologize for suggesting anything other than my profound admiration for the #MeToo movement," he said. "Let me clearly say, I agree with the goals of the #MeToo movement ... I am humbled that others have looked to the path I have taken in the decades since as lessons in their own journey. But sometimes, the teacher has to become the student, and it is clear that I still have much to learn."
Jimmy Kimmel is sorry for insulting the gay community amid a Twitter feud with Sean Hannity
During a bit on Jimmy Kimmel Live! on April 2, Kimmel poked fun at first lady Melania Trump's accent in a video that showed her reading a book to children at the White House Easter Egg Roll. This set off a public, messy Twitter feud between Kimmel and Fox News personality Sean Hannity, who called the late-night host an "ass clown" and demanded he apologize.
The two traded increasingly sloppy insults back and forth, eventually resulting in Kimmel posting an edited image meant to imply Hannity was having sex with a male clown. Kimmel also suggested Hannity was having sex with President Donald Trump, disparagingly accusing the conservative commentator of being "on bottom."
This comment drew the ire of queer men in particular, who said Kimmel's insults were part of a long history of homophobic humor meant to equate gayness with a lack of masculinity.
Kimmel apologized for his "vitriol" Sunday in a statement on Twitter.
"While I admit I did have fun with our back-and-forth, after some thought, I realize that the level of vitriol from all sides (mine and me included) does nothing good for anyone and, in fact, is harmful to our country," he said. "By lampooning Sean Hannity's deference to the president, I most certainly did not intend to belittle or upset members of the gay community and to those who took offense, I apologize."