UN ambassador Nikki Haley: "Russia alone" enabled Assad chemical attack in Syria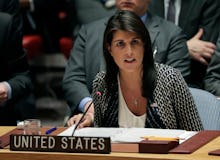 United Nations ambassador Nikki Haley strongly condemned Moscow on Friday, claiming that "Russia alone" was responsible for enabling the Syrian government's suspected chemical weapons attack in rebel-held Douma last weekend.
"If Russia had lived up to its commitment, there would be no chemical weapons in Syria and we would not be here today," Haley said in remarks to the U.N. Security Council.
Haley's comments came less than a week after Syrian President Bashar al-Assad's forces allegedly conducted a chemical attack that left dozens dead. Both the Syrian government and the Kremlin, which backs Assad, have denied such a chemical attack took place.
However, the United States, United Kingdom and France have all expressed confidence that chlorine gas and a nerve agent were used in Saturday's attack — and that Assad's forces were behind it.
"Russia can complain all it wants about fake news, but no one is buying its lies and its cover-ups," Haley said Friday.
The suspected chemical attack has become the latest, and potentially most dangerous, dispute between Russia and the U.S. as tensions between the countries have risen in recent weeks.
The Kremlin on Friday threatened to shoot down any missiles the U.S. may launch at Syria in response to the attack. President Donald Trump countered with a tweet in which he appeared to warn Russia that a retaliatory strike on Assad's forces was imminent.
"Get ready Russia, because [missiles] will be coming, nice and new and 'smart!'" Trump tweeted Wednesday, apparently taking the Pentagon by surprise. "You shouldn't be partners with a Gas Killing Animal who kills his people and enjoys it!"
After facing criticism for telegraphing his potential military move — something he criticized former President Barack Obama, for doing — he backtracked, tweeting Thursday that a Syria strike "could be very soon or not so soon at all!"
The U.K., France and the U.S. appear to be in the process of deciding on a response to the Syrian government's latest aggression, but there doesn't seem to be an easy solution to the crisis. The White House indicated Wednesday that diplomacy was still on the table, but harsh rhetoric from Trump and others make that route increasingly unlikely.
If Trump does decide to use force in Syria, it is expected to be a more robust response than the strike he launched in April 2017 after a similar chemical weapons attack, which didn't seem to deter Assad.
On Friday, Haley said Trump "has not made a decision yet on Syria." Still, a stronger military response carries its own obvious risks.
For one, it could intensify an already devastating civil war and lead to further casualties. A more expansive strike could also draw the U.S. deeper into a conflict from which Trump has sought to remove American troops. Additionally, it could escalate into conflict between the U.S. and Russia, effectively turning Syria into a proxy battleground between the two Cold War adversaries.
Relations between the two nuclear powers have grown increasingly strained since the Kremlin allegedly poisoned former Russian double-agent Sergei Skripal and his 33-year-old daughter in the U.K. in March.
The Trump administration expelled Russian officials from the U.S. over the reported poisoning. It has also hit Russia with two rounds of sanctions — less than a month apart — over its "malign activity around the globe," including its interference in the 2016 U.S. election.
On Friday, Haley slammed Russia for vetoing U.N. condemnation of Assad's use of chemical weapons, protecting his regime and failing to guarantee the removal of chemical weapons from Syria.
"It is Russia alone that has stopped at nothing to defend the Syrian regime's multiple uses of chemical weapons," Haley said.
But Vassily Nebenzia, Russia's ambassador to the U.N., accused Western powers on Friday of using the alleged attack as a pretense to oust Assad and to check Russia's power.
"We continue to observe dangerous military preparations for an illegal act of force against a sovereign state in what would constitute a breach of international law," Nebenzia told the U.N. Security Council. "We call on the leadership of these states to immediately reconsider."