"Little Miss Flint" calls out Twitter for verifying the Walmart yodeler before her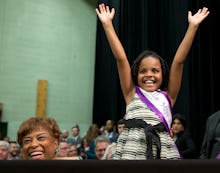 If you're out of ideas for how to get verified on Twitter, maybe you should try yodeling in public.
Mason Ramsey, an 11-year-old boy from Illinois, recently achieved viral internet fame when a video of him yodeling a Hank Williams song in a Walmart spread like wildfire. In just a short time, the video inspired an electronic dance remix, a reenactment of the video by a famous drag queen and the mark of true internet fame sought by many, but achieved by few: an appearance on Ellen, in which he was offered a $15,000 scholarship and an opportunity to perform at the Grand Ole Opry.
In the midst of all this, Twitter granted Ramsey's account the coveted blue checkmark, a badge that signifies, yes, this account is the real deal and is owned by Mason "the boy yodeler" Ramsey himself.
Mari Copeny — a 10-year-old activist who also goes by "Little Miss Flint" — has not been afforded quite as much attention for her activism related to the clean water crisis in Flint, Michigan. Thursday afternoon, she tweeted, "So @Twitter why exactly is my account not verified," alongside a screenshot of Ramsey's newly verified account.
Copeny first entered the public eye in April 2016, when then-President Barack Obama responded to a letter Copeny wrote in which she asked to meet him. Obama used Copeny's letter to announce he'd visit Flint in person. (Comparison photos of her much less joyous interaction with then-presidential candidate Donald Trump made the rounds later that year, too.)
In the time since, Copeny — who has not yet appeared on Ellen — has remained politically active. In August, she raised more than $10,000 to gather and hand out backpacks and supplies to children in Flint. In February, she and her cousin, Felicia Copeny, started a GoFundMe to raise money for free screenings of the Marvel movie Black Panther for the local community. The list goes on.
Getting a Twitter account verified is an infamously opaque process, one that was so lacking in cohesiveness that Twitter announced in November it was putting the verification process on hiatus after it granted verification to an organizer of the white nationalist rally in Charlottesville, Virginia.
After Copeny tweeted her plea, a number of people tweeted their support, saying she was deserving of Twitter's official recognition.
Eventually, the young yodeler himself chimed in.
"@verified some help please Twitter?" a tweet from Ramsey's account says.
Shortly thereafter, Copeny's account conspicuously started sporting a brand-new blue checkmark. (Copeny tweeted that she had applied for verification twice before that.)
"Thank you Mason," Copeny responded. "By the way I'm Mari and I'm 10 years old."