Haley hits back at Russia over airstrike condemnation: "The time for talk ended last night"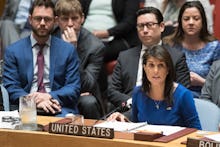 United Nations Ambassador Nikki Haley on Saturday escalated a war of words between Washington and Moscow, slamming Russia's condemnation of the United States-led military response to the latest alleged chemical attack in Syria as a "disinformation campaign."
"The pictures of dead children were not fake news," Haley told the U.N. security council on Saturday. "They were the result of the Syrian regime's barbaric inhumanity, and they were the result of the regime and Russia's failure to live up to their international commitment to remove all chemical weapons from Syria."
The U.S., United Kingdom and France on Friday launched a missile strike on targets in Syria in response to an apparent chemical attack by Syrian President Bashar Assad last week in the rebel-held city of Douma.
Russia, which supports the Assad regime, called the operation an "act of aggression" that violated the "norms and principles of international law," and warned of "consequences" for the U.S.
The strikes have become the latest, and potentially most dangerous, flashpoint between the U.S. and Russia, whose relations have appeared to deteriorate significantly in recent weeks, and have raised the specter of a proxy battle — or even outright conflict — between the two nuclear powers.
"The worst apprehensions have come true. Our warnings have been left unheard," Anatoly Antonov, the Russian envoy to the U.S., said in a statement Friday. "Insulting the president of Russia is unacceptable and inadmissible. The U.S. — the possessor of the biggest arsenal of chemical weapons — has no moral right to blame other countries."
Russia is pushing a U.N. resolution condemning the U.S.-led strike, which President Donald Trump said Saturday was "perfectly executed."
But Haley defended the joint operation, saying that the response was "justified, legitimate and proportionate."
"The time for talk ended last night," Haley said. "We acted to deter the future use of chemical weapons by holding the Syrian regime responsible for its atrocities against humanity."
She said that the U.S. and its allies had given diplomacy "chance after chance," but that those efforts failed because Russia had continuously protected Assad.
"While Russia was busy protecting the regime, Assad took notice," Haley said. "The regime knew it could act with impunity, and it did."
"We cannot stand by and let Russia trash every international norm that we stand for and allow the use of chemical weapons to go unanswered," she added.
The strikes Friday were "double" the size of the operation the U.S. carried out in Syria in April 2017 and would result in a "long term degradation of Syria's ability" to create, use and deploy chemical weapons, Pentagon officials said following the move.
U.S. officials said Saturday that they believed the strikes would prevent future chemical attacks by the Syrian regime, but warned that the U.S. was prepared to "sustain" its operation if Assad continues his aggressions.
"We are confident we have crippled Syria's chemical weapons program," Haley said. "We are prepared to sustain this pressure if the Syrian regime is foolish enough to test our will."