This week in Trump-Russia news: Storm brewing over White House as Trump rages over Cohen raid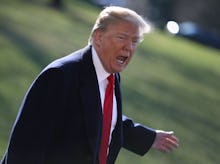 The FBI raid on attorney Michael Cohen has imperiled Donald Trump's presidency.
The criminal probe into Trump's longtime "pit bull" personal lawyer could be more of a threat to the president than Robert Mueller's Russia investigation, according to Trump's advisers, and has raised fears that the president could take dramatic action that could lead to a "constitutional crisis."
Here's what you need to know about the two FBI probes — and about the rising tensions between Washington and Moscow that could turn Syria into a proxy battleground for the two Cold War powers.
Signs of fire appear behind Cohen smoke
Cohen is under criminal investigation, the Department of Justice confirmed Friday.
The FBI raided Trump's longtime personal attorney Monday and seized emails, tax records and business documents from his office, hotel and residence.
Some of the seized documents and communications are related to Cohen's $130,000 payout in 2016 to Stormy Daniels, the porn actress who says she had an affair with Trump in 2006. Investigators also reportedly looked for records relating to the infamous Access Hollywood tape, in which Trump was heard saying that he can "grab [women] by the pussy" without consent; the recording was a major scandal for the then-Republican presidential contender when it was released in October 2016.
The DOJ has not said definitively what Cohen is being investigated for, but court records say his possible misconduct largely centers on "his personal business dealings," according to reports.
The investigation has been going on for months.
Trump seethed over the raid, describing it as an "attack on our country" in rambling remarks to the media on Monday.
According to the New York Times, aides to Trump consider the probe into Cohen more dangerous to Trump than the Mueller probe, as Cohen has been one of Trump's closest associates for over a decade and is deeply entwined in the president's business dealings. As Trump biographer Michael D'Antonio said earlier this week, the lawyer "knows everything there is to know about Trump's 500-plus businesses."
"He understands how Trump challenged the boundaries of normal business practices and where he may have crossed them," D'Antonio said. "Prosecutors may now have volumes of material on past 'issues' Cohen fixed and this exposes what was once private in a way that must worry the president."
Trump has suggested that his communications with Cohen, which the FBI apparently seized, should be protected by attorney-client privilege.
But it's not clear that all their communications would fall under that protection, as Cohen's role on Team Trump frequently blurred the line between attorney and fixer.
"A document is privileged only if it is a communication from a client to a lawyer or vice versa in connection with providing legal advice," Kathleen Clark, a professor of law at Washington University in St. Louis, explained in an interview earlier this week.
Cohen's attorney in court on Friday attempted to bar prosecutors from reviewing the seized materials, but a New York district judge said she needed more information to make a ruling and ordered Cohen and his legal team to return to court Monday.
The raid — carried out by the U.S. attorney's office for the Southern District of New York — was a stunning move and authorities would have had to clear a high-bar to obtain such a warrant, according to former federal prosecutor Patrick Cotter.
That they did, he said on Tuesday, suggests "the allegations and the preliminary evidence regarding Cohen are significant."
"If I were Cohen, I'd be concerned," Cotter said.
Trump directs fury at Mueller probe
Though the move was not part of the Mueller investigation, it was conducted under referral from the special counsel and authorized by deputy attorney general Rod Rosenstein, who oversees the Russia probe.
That has led to a spike in concern that Trump may oust Rosenstein or other top federal law enforcement officials in an effort to derail the investigation, or possibly even attempt to fire Mueller himself.
"No Collusion or Obstruction," Trump tweeted Wednesday. "So now they do the Unthinkable, and RAID a lawyers[sic] office for information!"
"BAD!" he said.
Trump has long been frustrated with Rosenstein, who has overseen the FBI probe since attorney general Jeff Sessions recused himself from matters relating to Russia in early 2017. But Trump now appears to be seriously considering terminating the deputy attorney general — a move that would be considered an attack on Mueller.
"I see Rosenstein as Mueller and Mueller as Rosenstein," Rep. Eric Swalwell (D-Calif.) said on Thursday. "For a president to be able to fire his investigator, that is outside of what is acceptable in the United States and we just cannot allow that to happen."
Such a dramatic move could have serious implications for his presidency and could possibly even trigger impeachment proceedings, according to Danielle Brian, executive director of the Project On Government Oversight.
"I have confidence that if he were to take that step, you would see not just an uprising from people on the left, but you would see Republicans saying that this has gone too far," Brian said by phone Thursday.
Even Republicans have appealed to Trump in attempt to dissuade him from going after Rosenstein or Mueller, but the president has appeared increasingly angry and volatile in the wake of the Cohen raid.
The White House has not dismissed the possibility of terminating Rosenstein and that Trump believes he has the authority to fire Mueller.
The rumor mill churned all week about the prospect of Rosenstein's firing, with even what appeared to be an innocuous visit to the White House by the deputy attorney general sounding online alarm bells that he may have been canned.
But as of Saturday afternoon, Rosenstein still had his job, and Trump had found some new fuel for one of his routine Twitter tirades against the Russia probe in the form of a scathing inspector general report about Andrew McCabe.
According to the DOJ's internal watchdog on Friday, the former deputy FBI director "lacked candor" with investigators regarding improper disclosures to the media about the bureau's investigation into the Clinton Foundation in 2016.
Trump — a frequent critic of McCabe — cheered the report, which he said vindicated his claim that fired FBI director James Comey and other federal law enforcement officials are conducting a "witch hunt."
"[McCabe] LIED! LIED! LIED!" Trump tweeted Friday. "No collusion, all made up by this den of thieves and lowlifes!"
Syria becomes flashpoint in U.S.-Russia tensions
Meanwhile, tensions between Washington and Moscow are threatening to boil over following the U.S.-led airstrikes in Syria on Friday.
The U.S., U.K. and France launched an attack on Syrian President Bashar Assad's government in response to the regime's apparent chemical attack in rebel-held Douma on April 7 that left dozens dead.
Russian President Vladimir Putin, one of Assad's key allies, condemned the move as a breach of the "norms and principles of international law."
But U.S. officials have countered that the offensive was "justified, legitimate and proportionate," and blamed Russia for enabling Assad.
"We cannot stand by and let Russia trash every international norm that we stand for and allow the use of chemical weapons to go unanswered," U.N. Ambassador Nikki Haley said in stern remarks to the United Nations security council Saturday.
The dispute has threatened to turn Syria into a proxy battleground between the U.S. and Russia — and some have even warned of a potential open conflict between the two nuclear powers.
Trump, who had previously adopted a warm posture toward Putin and Russia, has spent days talking uncharacteristically tough on Moscow, saying in televised remarks Friday that "Russia must decide if it will continue down this dark path or if it will join with civilized nations as a force for stability and peace."
"Nations of the world can be judged by the friends they keep," Trump said announcing the Syria strike. "No nation can succeed in the long run by promoting rogue states, brutal tyrants and murderous dictators."
But, of course, he also made sure this week to shift some of the blame for the worsening relations between the U.S. and Russia onto the FBI probe.
"Much of the bad blood with Russia is caused by the Fake & Corrupt Russia Investigation, headed up by the all Democrat loyalists, or people that worked for Obama," Trump tweeted Wednesday morning. "Mueller is most conflicted of all (except Rosenstein who signed FISA & Comey letter). No Collusion, so they go crazy!"