Trump doubles down on insulting James Comey in an especially vitriolic Sunday tweetstorm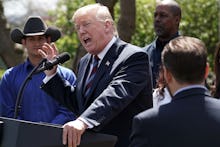 On Sunday morning, following one of the tensest weeks to date in President Donald Trump's White House, the president took to Twitter to attack former FBI Director James Comey in what is likely one of Trump's most vitriolic Sunday morning tweetstorms yet.
"Slippery James Comey, a man who always ends up badly and out of whack (he is not smart!), will go down as the WORST FBI Director in history, by far!" Trump tweeted Sunday.
Trump's invective comes in the lead up to Comey's hotly anticipated memoir, A Higher Loyalty, which is slated to be released April 17. According to the Washington Post, the book is "an indictment of Trump's presidency as well as of his character."
"What is happening now is not normal. It is not fake news. It is not okay," the Post quotes Comey as writing in the book, adding that he describes the Trump presidency as a "forest fire."
In his Sunday tweets, Trump took issue with a number of the claims in the FBI director's memoir, including the revelation that the 2016 presidential election polls may have influenced Comey's handling of the Hillary Clinton email probe. The president also slammed Comey for not answering what Trump believes to be the "big questions," such as allegations that Comey may have lied to Congress and a $700,000 donation made by a super PAC of former Virginia governor and Clinton ally Terry McAuliffe to former FBI deputy director Andrew McCabe's wife's political campaign.
"Unbelievably, James Comey states that Polls, where Crooked Hillary was leading, were a factor in the handling (stupidly) of the Clinton Email probe. In other words, he was making decisions based on the fact that he thought she was going to win, and he wanted a job. Slimeball!" Trump tweeted.
Trump also hit back against Comey reiterating in the memoir that the president had specifically asked for Comey's "loyalty" in his role as FBI director.
"I was determined not to give the president any hint of assent to this demand, so I gave silence instead," Comey wrote about Trump's demand for loyalty, as quoted by the Post. "I stared at the soft white pouches under his expressionless blue eyes. I remember thinking in that moment that the president doesn't understand the FBI's role in American life."
In a Sunday tweet, Trump responded to the claim, saying: "I never asked Comey for Personal Loyalty. I hardly even knew this guy. Just another of his many lies. His 'memos' are self serving and FAKE!"
The president's tweets also took issue with former Attorney General Loretta Lynch, whom Comey describes in the book as having a "tortured half-out, half-in approach" to the Clinton email investigation.
On Sunday, Trump used Comey's treatment of the former attorney general to bring up a 2016 meeting on a tarmac between Lynch and former president Bill Clinton. According to a recent interview Lynch gave to NBC News, she and Clinton talked about "innocuous things" during the meeting, such as a "long but charming story" about Clinton's grandchildren and Brexit. Critics, however, have disputed the account, seizing on the meeting as potential evidence that the Obama-era Justice Department's independence may have been compromised with regard to the Clinton investigation.
"Comey throws AG Lynch 'under the bus!' Why can't we all find out what happened on the tarmac in the back of the plane with Wild Bill and Lynch? Was she promised a Supreme Court seat, or AG, in order to lay off Hillary. No golf and grandkids talk (give us all a break)!" Trump tweeted Sunday.
As usual, however, Trump's Sunday tweets didn't just stick to one topic. The president also addressed the ongoing probe into Trump lawyer Michael Cohen, tweeting that attorney-client privilege — which would not protect information that is "in furtherance" of crime or fraud — "is now a thing of the past."
"I have many (too many!) lawyers and they are probably wondering when their offices, and even homes, are going to be raided with everything, including their phones and computers, taken," Trump tweeted. "All lawyers are deflated and concerned!"
The president also weighed in on his recent decision to order strikes on Syria, which he previously defended in a Saturday tweet as being "perfectly executed." Trump's Saturday tweet also used the phrase "Mission Accomplished," which sparked criticism and evoked former President George W. Bush's ill-advised use of the phrase with regard to Iraq in 2003.
On Sunday, Trump defended his use of the phrase, saying that it is a "great military term" that should be "use[d] often" — and, of course, took aim at the "fake news media."
"The Syrian raid was so perfectly carried out, with such precision, that the only way the Fake News Media could demean was by my use of the term "Mission Accomplished,'" Trump tweeted. "I knew they would seize on this but felt it is such a great Military term, it should be brought back. Use often!"