New polls show a 40% approval rating for Trump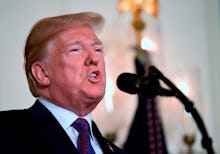 President Donald Trump took to Twitter Sunday to boast about a 50% approval rating — but two new polls are telling a different story.
"Just hit 50% in the Rasmussen Poll, much higher than President Obama at same point. With all of the phony stories and Fake News, it's hard to believe! Thank you America, we are doing Great Things," Trump tweeted Sunday.
The Rasmussen poll, which was released Friday, does put Trump at a 50% approval rating, which has steadily climbed from 47% since April 5. Other recently released polls, however, have not been so kind.
A Washington Post/ABC News poll released Sunday put the president's approval rating at 40%. ABC News noted the poll results marked the lowest 15-month approval rating for any president dating back to the Harry Truman administration.
For Trump, however, the number is still an improvement, marking his highest approval rating since April 2017.
According to the Post/ABC poll, Americans remain largely evenly split on Trump's handling of the economy, with 46% approving and 48% disapproving. Americans are much more united in their dislike of Trump himself, however: 61% of poll respondents said they saw Trump unfavorably "as a person," as compared with only 32% who disagreed.
Trump's popularity also varies heavily based on various demographics. Though Sunday's Post/ABC poll marked the first time in a year that a majority (53%) of white Americans approved of Trump, only 17% of nonwhites approved of Trump's performance. Women were also far less likely to support Trump; 64% of women disapproved of Trump's job performance and 68% had unfavorable views of him as a person, as compared with 47% and 53% of men, respectively.
The president fared even worse in an NBC News/Wall Street Journal poll released Sunday, which put Trump's approval rating at 39%, down four points from March. A Gallup poll released Friday on Trump's favorability had similar findings, with only 38% of respondents viewing Trump favorably, as compared with 41% in December.
The NBC/WSJ poll also had good news for Democrats in the midterm elections, with 47% of respondents preferring a Democrat-controlled Congress and only 40% preferring a Republican majority. The numbers mark a slight decline from the 10-point lead Democrats held in the poll in March.
According to the NBC/WSJ poll, Democratic voters are also more enthusiastic about heading to the polls in November. Sixty-six percent of Democrat voters expressed a high level of interest in the midterm elections, as compared with 49% of Republicans — an exact reversal of a poll conducted ahead of the midterm elections in 2010, NBC News noted.
Trump's unpopularity may also have an effect on the November results, the NBC/WSJ poll found. Forty percent of voters said they would be sending a message with their November votes that more Democrats are needed to "check and balance" out Trump and congressional Republicans, as compared with 28% who believed more Republicans were needed to carry out Trump and the GOP's agenda.
"2018 is shaping up as a referendum on President Donald Trump," Democratic pollster Peter Hart, whose firm conducted the NBC/WSJ poll, told NBC News.