Beychella: Unpacking all of the odes to black culture during Beyoncé's flawless Coachella set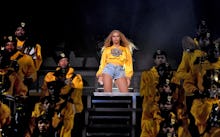 Beyoncé has set a new bar for the live performance — and she did it in the most unapologetically black way possible.
On Saturday night, Queen Bey took an audience of thousands at Coachella Valley Music and Arts Festival in Indio, California — and those of us who tuned into a YouTube stream from their homes — on a journey through her discography, with a few worthwhile pit stops along the way to pay homage to black music and culture.
Yoncé made history as the first black woman to headline the festival. "Ain't that 'bout a bitch?" Bey quipped after acknowledging her history-making feat.
The performance was boosted by its vibrant aesthetics and the big-brass sounds of band members from historically black colleges and universities. Her theatrical stage set featured football field bleachers, where the marching band and majorettes dressed in yellow and black (a nod to the BeyHive). Many of the musicians are reportedly part of an HBCU tribute marching band called Drumline Live, which features members from Florida A&M University, Hampton University, Prairie View A&M University and other black colleges.
For many viewers, the night offered a two-hour primer on black college life — but for HBCU students and alumni, this was homecoming. The night also marked Bey's homecoming to the performance stage following her yearlong maternity leave. And the set was definitely a family affair. Bey was joined by her husband Jay-Z, her sister Solange and fellow Destiny's Child members Michelle Williams and Kelly Rowland. Her go-to tour dancers Les Twins also returned to deliver splashy footwork. Her entire wardrobe was designed by black designer Olivier Rousteing, who heads the French fashion house Balmain.
On Monday, Beyoncé continued to build on her support of HBCUs with the announcement of her Homecoming Scholars Award Program that will give four HBCUs grants of $25,000 each. The universities receiving support through her initiative BeyGood are Xavier, Wilberforce, Tuskegee and Bethune-Cookman. This news comes a year after Bey launched the Formation Scholars Awards Program for current or incoming female students of Howard University, Spelman College, and the Berklee College of Music and Parsons School of Design.
The performance falls in line with her other recent blackity-black moments, following her 2016 Black Panther Party-themed Super Bowl halftime show and her 2017 Grammy performance, which both were explicitly dedicated to black culture — and especially black women.
But this set was particularly magical: A new black Greek letter organization was born, we milly-rocked, swag-surfed and crip-walked, and mini-tributes to trap, reggae, afrobeat, chopped and screwed, New Orleans bounce and go-go music were standout moments in an already amazing show. Overall, Bey gave us so much to digest. Here are 32 black cultural references we spotted while watching Beyoncé's biggest and blackest performance yet.
The intro
1. Beyoncé opened the show by marching in to her band's rendition of "Do Whatcha Wanna" by New Orleans' Rebirth Brass Band, while donning an Egyptian Queen Nefertiti-inspired headdress. (BeyHive fans can already buy Nefertiti-inspired merch on Bey's website.)
2. The train of her cape featured glittery Greek letters of her own sorority Beta Delta Kappa, which made its debut at this performance. Although Beyoncé did not attend a black college and pledge a sorority, she is very much adjacent to the culture via her father Mathew Knowles, who is an alumnus of Fisk University, a historically black college in Tennessee, and is also a member of the Divine Nine fraternity Omega Psi Phi.
3. Shortly after, Beyoncé disappeared from the stage, as the band played Kendrick Lamar's "Humble" followed by Jay-Z's "Family Feud," which samples the soulful and angelic gospel group The Clark Sisters' "Ha Ya (Eternal Life)."
4. When Beyoncé re-emerged at the top of the bleachers, the band played horns from The Wiz's "Emerald City Sequence," which in the film announces the presence of The Wizard, played by late comedian Richard Pryor.
"Crazy in Love" to the black national anthem
5. Queen Bey's Coachella performance of "Crazy in Love" mixed several hip-hop anthems including Juvenile's "Back that Ass Up," Jay-Z's vocals from "I'm a Hustler" and blaring horns from C-Murder's "Down for My Niggaz."
6. She followed this with her Lemonade track "Freedom" and then smoothly segued into a cover of "Lift Ev'ry Voice and Sing," aka the "black national anthem," by James Weldon Johnson.
An ode to the South
7. The next part of the set was clearly an ode to Beyoncé's Southern roots — "my daddy Alabama, momma Louisiana" — and her Houston upbringing. Bey's "Formation" is ushered in with a sample of late bounce rapper Messy Mya, proclaiming "Baby, I'm back by popular demand."
8. The set moved along to Beyoncé's boy bye anthem "Sorry." A skit unfolded featuring the "Bug-a-Boos," six men dressed in yellow jumpsuits detailed with Beta Delta Kappa symbols, who were pledging for a spot in Bey's fraternity. As Bey made demands, it's clear the moment was a nod to Spike Lee's School Daze, the 1988 film set at a black college in Atlanta. The moment also references the Destiny's Child song "Bug-a-Boo."
9. We also heard Yoncé fuse "Me, Myself, and I" into "Sorry." She followed with her unchaining rap verse from the B'Day track "Kitty Kat."
10. Houston met Brooklyn for Bey's "Bow Down/I Been On." She paid homage to chopped and screwed, a slowed down production technique pioneered by the late Houston native DJ Screw.
11. For this point of the show, a group of flex dancers also entered the stage and turned and twisted their bodies to the sluggish bass. Flexing is a street dance, which originated in the 1990s in predominantly black areas of Brooklyn, New York. King Havoc, one of the flex dancers who performed, shared his excitement of getting to dance with Queen Bey on Instagram.
12. Master P's 1995 single "Bout It, Bout It" was also heard incorporated into "Been On."
13. Later, Beyoncé stood and sang on a beam that extended over the crowd for "Drunk in Love." A few seconds in, the song paused and Nina Simone's version of "Lilac Wine" played while a man and woman danced to the sorrowful lyrics.
14. "Drunk in Love" was again cued back up, and the band incorporated Fast Life Yungstaz's "Swag Surfin" into the moment as everyone onstage did the unifying dance.
15. Bey's performance of "Diva," also featured an incredible mashup of Drake's "Headlines," Jay-Z's "Hovi Baby" and "Dirt Off Your Shoulder" followed by O.T. Genasis' "Everybody Mad."
16, The band's rendition of "Flawless" also included interpolations of Drake's "Trophies" and Outkast's "SpottieOttieDopaliscious." Bey previously used the Outkast sample on the "Flawless (Remix)" featuring Nicki Minaj.
17. As Beyoncé performed "Top Off," we heard DJ Khaled announce that Coachella's name had officially changed to "Beychella." Dancers were spotted jigging right to left to the viral Rich the Kid's "New Freezer" dance.
18. Beyoncé then held a probate where the Bug-a-Boos came back onstage and announced their line names, which were Beyoncé songs such as "Me, Myself, and I," "Shining," "Sweet Dreams," "Rocket," and "If I Were a Boy." When Beyoncé exited the stage again for an outfit change, the band played "Party" as a curvy majorette took centerstage and expertly twirled her batons.
Malcolm X speech: "Who Taught You to Hate Yourself?"
19. For Bey's performance of her raging song "Don't Hurt Yourself," we heard lines from Malcolm X's speech "Who Taught You to Hate Yourself?" in which he says, "The most disrespected woman in America is the black woman. The most unprotected person in America is the black woman. The most neglected person in America is the black woman." Beyoncé mouthed these words along with the recording of Malcolm's voice.
Caribbean influences
Beyoncé also paid homage to Caribbean music.
20. She kicked things off with her verse on the reggaeton jam "Mi Gente" by J Balvin & Willy William and "Standing in the Sun" remix featuring Mr. Vegas, and she did a smooth Smurda dance to it, too.
21. She then sang "Baby Boy" featuring Sean Paul, which also sampled dancehall artist Vybz Kartel's "Fever."
22. Beyoncé continued with a cover of reggae artist Dawn Penn's "You Don't Love Me (No, No, No)," which gave way to samples of Sister Nancy's "Bam Bam" and her singing "Hold Up."
23. Beyoncé closed out her trip to the islands singing "Countdown," which melded in Dram's "Broccoli."
Beyoncé's crest
24. Beyoncé's sparkling crest featured several images, including a black power fist; a side profile image of Nefertiti; a black panther scowling, which could be borrowed from the Black Panther Party's own symbolism for its organization; and a bee, which of course represents the BeyHive.
The reunions
25. Beyoncé brought on Jay-Z for the live performance of "Deja Vu." Her band paid homage to late afro-beat legend Fela Kuti by playing his "Zombie" record. Horns from Jay Z's "Roc Boys (And the Winner Is)" were also heard.
26. A quick intermission also followed in which the band played Bey's "Ego," chanted to Atlanta rapper Pastor Troy's 1999 song "No Mo' Play in G.A." and also paid homage to the 1996 track "Hay" by Chicago hip-hop group Crucial Conflict.
27. As Beyoncé appeared back onstage, her band then referenced the intro to The Jackson 5's "Can You Feel It," which is an all-time favorite for HBCU bands.
28. Beyoncé dedicated her next song "Run the World (Girls)" to the women watching and played a sample of Chimamanda Ngozi Adichie's feminism Ted Talk, which Bey previously sampled on "Flawless."
29. The band ushered in the Destiny's Child segment by playing the group's Destiny Fulfilled song "Girl." The trio then performed its hits "Lose My Breath," "Say My Name," "Say My Name (Timbaland remix)" and "Soldier," which was mixed with samples of Jay-Z's "U Don't Know," Tupac's "California Love" and The Jackson Five's "Dancing Machine."
30. For "Get Me Bodied," Solange — who brought Beyoncé out to her 2014 Coachella set — joined Bey onstage. They twerked to an amped-up bounce beat version of the song.
31. "Single Ladies" was also reworked as a second line-style song, which likely stirred excitement from New Orleans natives everywhere.
32. And just when you thought the performance couldn't get any blacker, Beyoncé's Coachella rendition of "Love on Top" was infused with go-go, a style of funk music that originated in Washington, D.C. The band closed out the epic set playing the instrumental to her DJ Khaled song "Shining," featuring Jay-Z.
By the end of the night, Beyoncé left viewers stunned by her own flawlessness and the perfection of her dancers, musicians and creative team. That she used her return to the musical stage at Coachella to center black culture is a testament to Bey's willingness to gorgeously push the boundaries on the representation of black culture in mainstream spaces.
April 16, 2018, 12:06 p.m.: This post has been updated.