Comey enrages Republicans and Democrats in no-holds-barred interview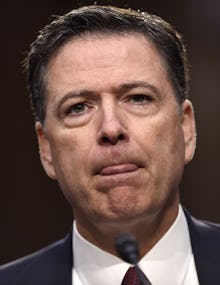 Welcome to Mic's daily read on Donald Trump's America. Want to receive this as a daily email in your inbox? Subscribe here.
Good morning from Emily Singer at Mic.
Here's what's happening in Trump's America:
• The president authorized airstrikes in Syria, and then spent the weekend golfing. Fox News host Sean Hannity once had something to say about that kind of behavior.
About last night: Comey's Trump-trashing interview draws ire from both sides of the aisle
Former FBI Director James Comey's interview that aired on ABC Sunday night seems to have enraged both Democratic and Republican operatives who worked on the 2016 presidential election.
Republicans reacted strongly about Comey bluntly describing Trump as a liar who is "morally unfit" to be president, and suggested there might be some "there" there in special counsel Robert Mueller's investigation into Trump's alleged obstruction of justice.
"A person who sees moral equivalence in Charlottesville, who talks about and treats women like they're pieces of meat, who lies constantly about matters big and small and insists the American people believe it — that person's not fit to be president of the United States, on moral grounds," Comey told ABC News' George Stephanopoulos.
During the interview, the Republican National Committee tried to blunt Comey's attacks by calling Comey a liar.
"James Comey didn't just break FBI protocol by leaking information to the press, he lied about it to Congress," The RNC tweeted, linking to its "Lyin' Comey" web page.
RNC Chairwoman Ronna McDaniel also took aim at Comey during the interview.
"Comey's PR tour reaffirms that his true higher loyalty is to himself," McDaniel tweeted during the interview. "The only thing worse than his history of misconduct is his willingness to say anything to sell books. He has no credibility & @realDonaldTrump was right to follow through on the bipartisan calls to fire him."
Democrats, meanwhile, were also frustrated by Comey's interview, in which he described his reasoning behind how he treated Hillary Clinton during the investigation into her use of a private email server while serving as secretary of state.
Comey described the investigation as a "no-win situation," and defended his decision to give a news conference announcing that the FBI wasn't going to file charges in the case, saying if he didn't, "corrosive doubt" would have sunk in that left the American people thinking "that the system is rigged somehow."
That didn't appease the Clinton folks, who said Comey treated her differently than Trump in how he handled investigations related to both of their campaigns.
"Comey to ABC: 'If I ever start considering whose political fortunes will be affected by a decision, we're done.' Also Comey to ABC: 'All of us were operating in a world where the polls were showing that Donald Trump had no chance,'" Brian Fallon, a top communications aide to Clinton's 2016 campaign, tweeted Sunday night. Christina Reynolds, another top communications aide to Clinton's campaign, echoed that point.
Ultimately, the interview is unlikely to change public opinion about Comey. Polls have shown that Republicans and Democrats have not changed their view of the former FBI director since he was fired.
Today in Trump's America: Trump's lawyers seek to mitigate potential damage from Cohen raid
Trump on Sunday night asked a federal judge to allow his legal team first crack at reviewing documents that the FBI seized last week from his longtime personal lawyer, Michael Cohen, saying they should be able to review the documents in order to determine whether they are privileged.
The move comes before a court hearing on Monday, where Cohen will make the case to a judge regarding the number of legal clients he represents, and how many of the documents the FBI seized may be privileged.
Porn actress Stormy Daniels is also expected to be at the hearing. The payoff Cohen made to Daniels to force her to keep quiet about an alleged affair she had with Trump in 2005 is part of the FBI's months-long criminal investigation into Cohen, which came to light after the FBI's raid.
The criminal investigation against Cohen — who as Trump's lawyer and self-proclaimed "fixer" has deep ties to the president — is a major threat to Trump's presidency.
"Cohen knows everything there is to know about Trump's 500-plus businesses. He understands how Trump challenged the boundaries of normal business practices, and where he may have crossed them," Michael D'Antonio, the Pulitzer Prize-winning journalist and Trump biographer, told Mic's Eric Lutz. "Prosecutors may now have volumes of material on past 'issues' Cohen fixed and this exposes what was once private in a way that must worry the president."
Capitol Hill happenings: Democrats' generic ballot lead for control of Congress shrinks
Democrats' advantage over Republicans for control of Congress in the 2018 midterm elections is shrinking, multiple polls have found.
Democrats' generic ballot lead over Republicans has shrunk to 6.9%, according to the FiveThirtyEight average. That's down dramatically since December, when Democrats held a 13-point lead in the generic ballot, which asks voters to specify which party they would vote for in congressional elections.
A new ABC News/Washington Post poll published Monday finds Republicans' standing has improved, thanks both to a jump in approval ratings for Trump, as well as gun policy, which seems to have motivated Republicans.
Despite a shrinking lead in the generic ballot, there are other promising signs for Democrats that a wave is building that could lead Republicans to lose control of the House. An NBC News/Wall Street Journal poll published Sunday found Democrats with a large enthusiasm gap.
Two-thirds, or 66%, of Democratic voters show "high interest" in voting in 2018, compared to just 49% of Republican voters. That spread is the opposite of what the NBC News/Wall Street Journal found in the enthusiasm gap before the 2010 midterms, when Republicans decimated Democrats and won control of the House.
Of course, the midterm elections are still roughly seven months away, meaning a lot could change. But there are other signs that Republicans have a lot to fear come November, including defending a bevy of open seats in competitive districts and the fact that the tax reform message the GOP hoped to run on isn't resonating with voters.
However, Democrats' shrinking generic ballot lead could give Republicans' some hope that the midterms may not be as bad as they could be.
And the rest…
Sad news: Former first lady Barbara Bush has opted to stop seeking medical treatment and instead be kept comfortable in her final days of life. Politicians of all political stripes sent their well wishes to the 92-year-old.
Russia, Russia, Russia: Trump was furious with his aides over the decision to expel 60 Russian diplomats from the U.S. in response to the poisoning attack of an ex-Russian spy in England, telling his aides he felt he was pushed to respond too harshly, the Washington Post reported. That news comes as the Trump administration now prepares to hit Russia with even more sanctions over Russian President Vladimir Putin's enabling of Syrian President Bashar al-Assad.
Uh-oh: Republicans are struggling to recruit a top-tier opponent in the race to replace retiring House Speaker Paul Ryan in his Wisconsin House seat. Multiple Republicans have said they won't run for the seat, including Wisconsin State Assembly Speaker Robin Vos. Democrats already have a well-funded candidate in Randy Bryce.