Sorry folks, but no, Beyoncé did not change her nails mid-performance during Coachella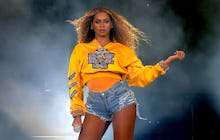 In case you've been living in a cave: On Saturday night Beyoncé headlined Coachella and gave us one of the most spectacular concerts of all time, with a two-hour show that mixed her older songs with her newer hits from Lemonade. Even just watching the show — affectionately dubbed Beychella by fans — streaming on YouTube, you had to remember to breathe.
There are many things we want to talk about of course, but first and foremost we have to deal with this rumor that Beyoncé, whose powers and talent are growing stronger by the minute, managed to change her nail polish in the middle of her concert.
After a few tweets, showing that she may have changed her nails from black to glittery, went viral, the internet lay back in awe.
The simple answer could have been that she is magic, because she is. Another answer could have been that during a moment backstage, perhaps during one of the few dancing routines Beyoncé didn't take part in, she snuck back and got her nails painted another color.
Or, it could have also been a thing called nail stickers, which could easily peel off to reveal another color underneath.
But even if we firmly believe that Beyoncé could walk on water, we have to break it to you: She actually didn't change her nail color mid-performance. This is all a big mix-up.
Here's what happened: Beyoncé had black nails the entirety of the show. We know this because we just rewatched it ourselves.
The reason why people thought she had sparkly nails for part of the show is because of images Bey's team released on her website that looked to be from the show, but must have been a rehearsal of some sort.
This is a picture Bey posted after the show that showed her right hand with glitter nails:
But this is her right hand during that same performance.
Black.
This is the picture everyone's sharing that shows the glitter nails again.
This is Bey's hands during her performance.
We know it may be hard to see, but those are black nails.
And these are Bey's hands at the end of her set.
She's still got those black nails, which she had for the very beginning too.
So anyway, no, Beyoncé didn't defy reality and change her nails in the middle of her set. Her team just posted images from one of the rehearsals, during which she did have glittery nails.
That doesn't mean Bey didn't pull off some other otherworldly feats, though. For example, every other aspect of her wardrobe. Olivier Rousteing, the designer behind Balmain, created five custom looks for this performance.
First there was the Egyptian goddess look, complete with cape and headdress, when we got just a peek of her in the very beginning.
Then there was the ripped short-shorts, sparkly boots and bejeweled, cropped sweatshirt that she wore for the first half of the performance.
For "Don't Hurt Yourself," she changed into a shiny black bodysuit and bomber jacket that made us feel a lot of ... feelings.
Then there was a mesh minidress, which was decorated with a Beyoncé crest featuring a black panther and a raised fist.
And finally there was the bejeweled camouflage dress, which matched Kelly Rowland and Michelle Williams' outfits for the Destiny's Child reunion.
In an interview with Vogue, Rousteing said that Bey had a hand in each of these ensembles.
"If I am being totally transparent, it is very, very rare in this kind of process to have so much communication with the artist and the ones closest to her on her team," he said. "I was able to be in the room with her and she would give me direct feedback about how the lighting should hit the clothes, what the music had to emphasize about each look — I never had to guess what to do next."
We simply do not deserve her.