Kentucky governor apologizes for comments linking teachers strike to sexual assault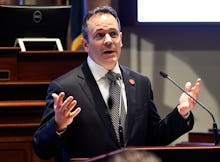 Kentucky Gov. Matt Bevin apologized Sunday for comments he made last week suggesting that children left at home during the state's teachers strike were more prone to sexual assault.
"I guarantee you somewhere in Kentucky today, a child was sexually assaulted that was left at home because there was nobody there to watch them," Bevin told reporters Friday afternoon.
Bevin added that children were more likely to be "introduced to drugs for the first time" because of school closures. The governor also characterized Friday's protest outside the Kentucky Capitol building — where thousands of teachers and school personnel gathered to demonstrate for better pay and pension reform — as an excuse for those employees to "[hang] out" and "[take] the day off."
"I'm offended that people so cavalierly, and so flippantly, disregarded what's truly best for children," Bevin said.
On Saturday, one day after the teachers' one-day strike, the Republican-led Kentucky House swiftly approved two resolutions condemning Bevin's comments in a sharp bipartisan rebuke.
Republican state Sen. Max Wise, co-chairman of the legislature's Interim Joint Committee on Education, used Twitter to firmly assert his disagreement with the governor's position.
"The disgusting comments by Gov. Bevin insinuating that a peaceful protest by teachers would lead to sexual assault are reprehensible," Wise wrote. "I don't agree with these comments & I find them repulsive."
In a video posted to YouTube on Sunday, Bevin backtracked and apologized for the "unintended consequences" of his words. He said he did not intend to "hurt anybody in this process."
Friday's action saw more than 30 Kentucky school districts assemble to protest Bevin's recent veto of a two-year state budget that called for increased public education spending by way of a more than $480 million tax increase. Lawmakers voted to override Bevin's veto on Friday.
During a radio interview with 840 WHAS Radio on Tuesday, Bevin criticized the Kentucky Education Association and called the group's leadership "absolute frauds."
"They're phonies," he said. "They're not even sincere. I respect the teachers who go into the classroom and teach the students."
The activism in Kentucky comes as teachers in red states across the country mobilize against low pay and poor working conditions. Recent protests have taken place in West Virginia, Oklahoma and Arizona.
In West Virginia, teachers and support staff won a 5% pay hike after a nine-day protest in March. On April 12, Arizona Gov. Doug Ducey promised teachers a 20% pay increase over the next two years, as well as an additional $1 billion in school funding that had previously been cut from the state's budget.
In Oklahoma, however, teachers reluctantly ended their own nine-day walkout Thursday after state legislators agreed to give them a modest $6,100 pay increase (school professionals will receive $1,250). The state also passed a funding increase of $50 million for public education, which many said fell far short of what's needed to fix the state's flagging public education system.