Activist with ALS who confronted Jeff Flake launches national campaign to elect Democrats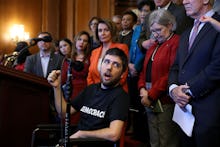 Ady Barkan, a father living with amyotrophic lateral sclerosis, doesn't have much time left to live. But that's not stopping him from trying to change the direction of the United States.
In December, Barkan gained fame when he confronted Sen. Jeff Flake (R-Ariz.) on a commercial flight over his support for the controversial GOP tax bill passed in December, explaining with a passionate plea that cuts in the bill could leave him unable to pay for a ventilator. Video of the exchange became a national symbol of the problems that Republican lawmakers faced voting for the tax bill, just months after many of them voted to take health care away from 16 million Americans in a failed effort to repeal the Affordable Care Act.
Despite the personal testimonials of Americans like Barkan, Congress ultimately passed the tax bill. But Barkan has decided he's not going to stop fighting.
"If being confronted by my pleas in person was not enough to get them to change their vote, then the only alternative solution is to vote these people out," Barkan said in an interview with Mic. "They're unpersuadable, so we need to replace the Republicans with Democrats to actually acknowledge my humanity, and care about the impact of their votes on regular American families."
On Tuesday, Barkan launched a new national campaign to support Democratic candidates across the country by once again defining to voters the stakes behind the Republican policy agenda.
In a new four-minute video, Barkan sends a message to his infant son Carl, describing how he fought to oppose the tax bill. He calls on voters to replace Republican members of Congress with representatives who will support families negatively affected by cuts to Medicare.
"I'm losing my ability to speak so I'm asking people to be my voice," Barkan says in the video. "I'm losing my ability to walk, so I'm asking people to march for me."
Organizers with the campaign told Mic that they have budgeted over six figures to promote the new video. Barkan says that's just the beginning.
"We're going to create content for other people's stories about health care and the tax bill — so not just my story," Barkan said. "We're going to fund community-based organizations on the ground and key races to get out low-propensity and young millennial voters, in particular voters of color, through door-knocking and hopefully while people sign up to fight."
In addition to voter mobilization, the campaign will include an independent expenditure fund to help spread its message in Senate and House races across the country. The campaign also has the support of a wide array of activists across the progressive spectrum. Writers and activists like Sean King, Brittany Packnett and Linda Sarsour have signed onto the effort, as has Obama administration alumnus Jon Favreau and progressive actress Alyssa Milano.
Barkan is launching his campaign in familiar territory by targeting voters in Flake's home state of Arizona as they head to the polls for a special congressional election on April 24. That race is taking place in Arizona's 8th Congressional District, where voters must decide who will replace Rep. Trent Franks (R-Ariz.), who resigned in scandal after it was discovered he had offered to pay multiple staffers to bear his children.
Until recently, the seat had been widely believed to be safe Republican territory — Donald Trump won the district by 21 percentage points in 2016, making it an uphill battle for Democrats looking to channel national outrage over the president. But recent signs have begun to suggest that the race may not be as easy for Republicans as once thought.
On April 3, Politico reported that national Republican organizations were dumping hundreds of thousands of dollars into the race to retain the seat. On Monday, a new Emerson College poll found that the candidates were in a statistical dead heat, with Democratic candidate Hiral Tipirneni leading Republican candidate Debbie Lesko by a single percentage point.
Barkan has already released the first glimpse of the new national campaign, with an ad supporting Tipirneni — and confronting Lesko the same way he confronted Flake.
"We raised over $10,000 to air it just from my tweet [of the video]," Barkan said of his ad in support of Tiperneni. "We're using that money to show the video to folks in the district, and also other organizations are paying to show it and show other versions of it to voters."
Though Republicans are still favored to win in the April 24 election, even a close race in the deeply conservative district could spell trouble for Republicans across the country running to hold their offices.
Barkan, who says he has considered running for office in the past, now says his window has closed, but he's willing to fight until his last breath to elect representatives who fight for people like him.