Michael Cohen's mystery third client was Fox News host Sean Hannity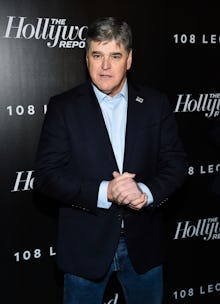 Fox News host Sean Hannity is caught up in the brouhaha surrounding the FBI's raid of President Donald Trump's personal attorney Michael Cohen, it was revealed on Monday afternoon.
Cohen went to court Monday to try to convince a judge that he should be able to review documents federal agents had seized before federal investigators, in order to determine whether or not the documents were privileged.
But Federal investigators say Cohen's claim would set a "dangerous precedent" that would allow "every person who has communicated with a lawyer" to "turn every search warrant into a subpoena and to demand the return of lawfully-seized evidence in order to undertake their own review of the evidence."
In the course of Monday's hearing, Cohen had to prove that he really is a practicing lawyer, which required him to reveal the number of clients he's done work for, according to reports from inside the courtroom.
Cohen initially said he had three clients, revealing them to be Trump and GOP fundraiser Elliott Broidy. Cohen said he had a third client whom he did legal work for, but the client asked that their name not be publicly revealed.
A judge, however, said Cohen's argument behind keeping the client secret didn't hold merit, according to reports from inside the courtroom. Cohen was forced to reveal that it was, in fact, Hannity, who hosts his nightly Hannity show on Fox News.
It's unclear whether Hannity is involved in the federal probe into Cohen. But Hannity railed against the Cohen raid, and has frequently attacked the special counsel investigation into Trump and the Trump campaign's possible ties to Russia.
After the raid one week ago, Hannity criticized the FBI's seizure of documents as "mission creep" and a "fishing expedition."
It's also notable that Hannity retained Cohen's legal services, given that Cohen is a self-described "fixer" who helped facilitate settlements with women who claimed to have affairs with Trump and Broidy.
Cohen is behind the $130,000 payment to porn actress Stormy Daniels. He also helped facilitate a $1.6 million settlement between Broidy and a former Playboy model whom claims Broidy impregnated her, according to a Wall Street Journal report.
Hannity, however, said on his radio show Monday afternoon that Cohen "was never involved in any matter between me and a third party."
"I never retained him in a traditional sense," he said. "I never paid legal fees to Michael, but I have occasionally had brief discussions on legal questions."
Monday, April 16, 2018 3:50 p.m.: This article has been updated.