Kendrick Lamar is the first hip-hop artist to win a Pulitzer Prize in music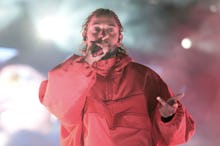 Kendrick Lamar made history Monday when it was announced the rapper from Compton, California, had won the 2018 Pulitzer Prize in music for his fourth studio album, 2017's Damn. Lamar is the first artist outside of the classical and jazz genres to win the distinguished award, the Associated Press reported.
Since 1943, the Pulitzer Prize Board has bestowed the Pulitzer in this category to a musical composition by an American artist that "had its first performance or recording in the United States during the year," according to the Pulitzer Prize website. Winners receive $15,000.
Board members called Damn. a "virtuosic song collection unified by its vernacular authenticity and rhythmic dynamism that offers affecting vignettes capturing the complexity of modern African-American life."
In 2017, the Pulitzer Prize in music went to the operatic work Angel's Bone by Du Yun; the 2016 honor was awarded to the jazz album In for a Penny, In for a Pound by Henry Threadgill.
Lamar's Damn. was nominated for the 2018 album of the year Grammy; if he had won, he would have been the first hip-hop artist to take the trophy home since OutKast did back in 2004. (Damn. lost to Bruno Mars' 24K Magic.)
Lamar didn't leave the 2018 Grammys empty-handed, of course. He won a slew of other awards, including best rap album for Damn. But it was no doubt disappointing for the rapper's fans to see him once again come up short in the race for the music industry's top honor.
With news of his Pulitzer win, though, it's evident Lamar's impact goes beyond conventional understandings of pop music success. He's opening new doors for hip-hop music and bridging the gap between popular and what would be considered high-brow culture. The Pulitzer Prize Board's decision to honor the rapper is a sign that excellence in hip-hop is finally starting to get the recognition it deserves.