Colorado teachers add their voices to other statewide strikes for fair wages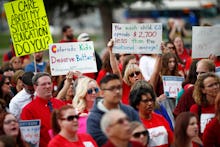 Colorado teachers on Monday flocked to the state capitol in Denver to petition lawmakers for better salaries and retirement benefits, adding their voices to a growing national labor movement first sparked by educators in West Virginia, Oklahoma, Arizona and Kentucky.
Nationwide, Colorado ranks 46th in terms of average teacher salary, with some teachers in rural parts of the state making as little as $29,000 a year. That lack of competitive compensation has led to a dearth of qualified teachers — something that Colorado Education Association president Kerrie Dallman said her organization is actively trying to combat.
"Colorado has, year over year over year, significantly underfunded our public schools," she told CBS Denver. "That's not okay and it shouldn't be okay for anyone. We want our teachers focused in the classroom."
For Monday's labor action, union leaders had suggested that teachers take personal days in order to be present at the capitol, the success of which caused at least one district — Englewood, a suburb of Denver — to shutter its public schools for the day.
In a notice to parents, Englewood superintendent Wendy Rubin said that over 70% of the school's teachers was expected to be absent on Monday, with that number likely to grow.
According to the CEA, Colorado has underfunded its public schools to the tune of $828 million in recent years, the result of a failure to comply with a mandate passed in the last decade requiring the state to increase funding to keep up with the pace of inflation.
By the end of the day on Monday, the teachers had won their first small victory, with state lawmakers agreeing to amend a recent pension bill to lower the age of retirement to 60 from the proposed 65 (the retirement age in the state is currently 58).
As Dallman told CNN, it's a sign to teachers that lawmakers are willing to listen to them — but they're not willing to throw in the towel just yet. In a statement, the Denver Classroom Teachers Association announced a second labor action planned for April 27, when Denver public school teachers will rally outside the capitol at 1:30 p.m.
In the statement, DCTA president Henry Roman acknowledged that the movement had drawn inspiration from other educator-led protests happening around the country.
"We're seeing a very strong wave of teacher frustration sweeping across the country," Roman said. "As you can tell from the actions in West Virginia and Oklahoma, teachers are fed up with students lacking educational resources. They're tired of working for low wages in underfunded school environments that can only be described as woefully inadequate."