Sean Hannity comes under fire after he's revealed as Michael Cohen's mystery client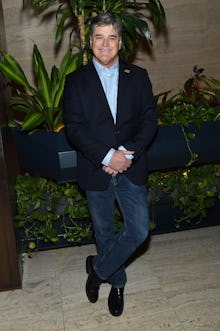 Welcome to Mic's daily read on Donald Trump's America. Want to receive this as a daily email in your inbox? Subscribe here.
Good morning from Emily Singer at Mic.
Here's what's happening in Trump's America:
• Fox News host Sean Hannity faces heat after it was revealed he was a secret client of President' Trump's personal lawyer, Michael Cohen.
About last night: Hannity called out for ethical violation on his own show
Sean Hannity is facing a firestorm of criticism after he forcefully went after the FBI on his Fox News show for raiding Trump's personal lawyer Michael Cohen's office and residence without disclosing that he used Cohen's legal services himself.
Cohen revealed Monday in federal court in New York that Hannity was one of three clients Cohen's had since 2017. The revelation came during a hearing in which Cohen and Trump's lawyers sought to mitigate the potential damage of the FBI's raid on his home and office by demanding first look at the documents taken to determine whether they were privileged. A judge ruled against that request but said that Trump would eventually get to see the documents that pertained to him.
Hannity, however, has now been drawn into the brouhaha. He is even being directly called out on his own nightly show about not disclosing his relationship with Cohen.
"Sean, I do want to say that I really think that you should have disclosed your relationship with Cohen when you talked about him on this show," Alan Dershowitz, a lawyer who has defended Trump against the special counsel's Russia investigation, said on Hannity on Monday night. "You could have said that you had asked him for advice or whatever, but I think it would have been much, much better had you disclosed that relationship."
Hannity appeared to be caught off guard by Dershowitz's remark and insisted he had a minor relationship with Cohen, and that he had the "right to privacy."
"Look, you were in a tough position because A, you had to talk about Cohen, and B, you didn't want the fact that you had spoken to him to be revealed," Dershowitz said to Hannity. "And you had the right, by the way, not to have your identity revealed, but it's a complex situation when you're speaking to millions of people."
Hannity had released a statement after it was revealed that he worked with Cohen, downplaying their relationship.
"Michael Cohen has never represented me in any matter. I never retained him, received an invoice or paid legal fees," Hannity said in a statement. "I have occasionally had brief discussions with him about legal questions about which I wanted his input and perspective. I assumed those conversations were confidential, but to be absolutely clear, they never involved any matter between me and a third party."
Today in Trump's America: Republicans huddle on tax reform
It's Tax Day (friendly reminder to all you NTA readers)! Republicans plan to huddle to talk about their strategy to use the tax reform bill to bolster their electoral chances in the November midterms, according to Politico.
Republicans have said the tax bill would be a boon to the GOP's electoral prospects this fall, touting that average Americans will see more take-home pay thanks to the new law.
However, polls show the tax bill isn't helping Republicans as they hoped.
Democrats, on the other hand, plan to run against the tax law, saying it lined the pockets of the rich instead of helping middle-class Americans.
The Democratic Congressional Campaign Committee released a digital ad Monday spoofing the tax bill. The ad shows a bunch of wealthy CEOs sitting around a boardroom table talking about the outlandish things they plan to do with their massive tax cuts, like filling their pools with bottled Fiji water and buying diamond-encrusted grills. A CEO then turns to a female assistant pouring coffee for the CEOs and asks what she's going to do with her tax cut. She says she didn't get one.
Capitol Hill happenings: War authorization
Sens. Bob Corker (R-Tenn.) and Tim Kaine (D-Va.) struck a deal Monday that would give Congress more oversight in how President Donald Trump can handle the ongoing conflicts in the Middle East.
The conflicts throughout the Middle East, as well as military actions in other countries in Africa and Asia, have been hinged on an Authorization for Use of Military Force, which was last passed in 2001 — days after the 9/11 attacks.
However, in the wake of Trump's Syria strikes, Corker and Kaine say Congress — which under the Constitution has the power to declare war — needs to have more oversight of the president's war powers. Their new AUMF still allows the president to fight against extremist groups like ISIS, but "does not provide authority for military action against any nation-state."
The new AUMF would also require that the president report to Congress "all new designated associated forces, the basis for those designations and each new country in which the United States is using military force pursuant to the AUMF."
"For too long, Congress has given presidents a blank check to wage war. We've let the 9/11 and Iraq War authorizations get stretched to justify wars against multiple terrorist groups in over a dozen countries, from Niger to the Philippines. Our proposal finally repeals those authorizations and makes Congress do its job by weighing in on where, when and with who we are at war," Kaine, a member of the Senate Foreign Relations Committee, said in a statement about the new proposed AUMF.
It's unlikely, however, that Republican leaders would put a new AUMF up for a vote in the full Senate, as voting on a war authorization in the midst of an election year is a risky endeavor.
And the rest…
Russia: Trump personally halted plans to punish Russia for propping up Syrian President Bashar Assad, the Washington Post reported. U.S. Ambassador to the United Nations Nikki Haley had announced the U.S. was going to impose more sanctions on Russia for its involvement with Assad. Trump, according to the Washington Post, was not comfortable with additional sanctions.
Scott Pruitt: He may have fallen out of the news, but that doesn't mean Environmental Protection Agency administrator Scott Pruitt's ethical troubles have ended. The Government Accountability Office on Monday released a report that says the $43,000 soundproof phone booth Pruitt installed in his office violated spending rules.
Surf's up in NJ: A Democratic wave is building in New Jersey, making GOP lawmakers in the state vulnerable to losing re-election, according to a new Monmouth University poll out Monday. Driving the GOP vulnerability is Trump's abysmal approval rating in the state, which stands at just 34%, as well as the GOP tax reform law, which has a 35% approval rating.
"If these results hold, we could be down to just one or two – or maybe even zero – Republican members in the state congressional delegation after November," Patrick Murray, director of the Monmouth University Polling Institute, said in a statement.
Speaking of New Jersey… Democratic Gov. Phil Murphy will sign an automatic voter registration bill into law Tuesday, which lawmakers in the state hope will make it easier for New Jerseyans to vote.
Baby on board: The Senate will allow Sen. Tammy Duckworth (D-Ill.), who earlier this month became the first sitting senator to give birth, to bring her newborn daughter to the Senate floor. Currently, Senate rules prohibit Duckworth from giving her newborn to a staffer when she goes to the floor to vote, as that would be a violation of conflict of interest rules, according to Politico.
John McCain: The Arizona Republican's office announced that McCain underwent surgery on Sunday to treat an intestinal infection related to diverticulitis. McCain has been in Arizona since December as he recovers from the side effects of his brain cancer treatment.