Who will design Meghan Markle's wedding gown? From Stella to McQueen, here are our guesses.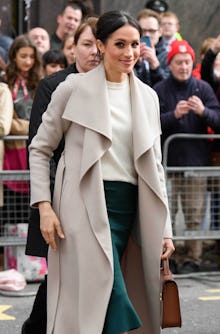 We're nearly a month out from Prince Harry and Meghan Markle's wedding and the press over in the U.K. — and here in the U.S. — is going expectedly nuts.
From the invitations to the cake to the venue, every bit of this wedding is set to be analyzed by the masses. But there's one element that is far more anticipated than all the others: the dress.
Markle's wedding dress — and specifically the designer making it — is currently England's best kept secret. People are literally betting real money on who it's going to be.
Pretty much every other day there's a new rumor of who the designer is, so let's track all the moves here.
Who it won't be:
Victoria Beckham
Despite practically being British royalty since she is an original Spice Girl, Victoria Beckham confirmed on The Late Late Show With James Corden that she would not be designing Markle's gown.
"Sadly, I'm not, but I'm sure she'll look incredible," she said.
A bummer, given how beautiful Beckham's most recent fashion shows have been.
Who it could be:
Christopher Bailey at Burberry
Just yesterday, Burberry's Christopher Bailey, who recently announced that he's leaving the label this year after 17 years, emerged as one of the frontrunners to design Markle's gown. He is British, was once at the helm of one of Britain's most iconic labels and is known in fashion for being extremely pleasant.
Bailey's staying with Burberry through the end of the year, and this could be his final bow at the label.
Stella McCartney
Now this is a very natural fit. Markle and Stella McCartney have both split their time between London and Los Angeles, where Markle is from, and McCartney's modern, elegant and often feminist perspective would meld well with Markle's personal style.
McCartney has gone so far as to comment on designing Markle's dress too.
"I'll take that as a compliment," Stella McCartney told E! News regarding the rumor. "I've done a few wedding dresses for very close friends, and it's an incredible honor."
Markle has worn McCartney's designs several times before, so this is a good bet.
Roland Mouret
Roland Mouret isn't a British designer himself, but he's a longtime friend of Markle's and has slyly alluded to maybe, possibly helping Markle on her big day.
Asked about whether or not he was the chosen one, he told Women's Wear Daily: "Mmmmmm, I don't want to say. No comment. It's … there is no comment on that. She's a friend. And that's … I can't say."
To the New York Post he added, "Meghan knows really well what she likes and the main thing with Meghan is to listen to her and work in collaboration with her. I've already said too much."
Erdem
Ever since Markle's engagement, Erdem has been one of the favorite predictions. The British fashion house is run by Canadian-born designer Erdem Moralioglu, so if Markle were to choose Erdem, she'd be giving a nod to her new home country but Canada, where she lived for years while filming Suits.
Erdem has also been a favorite of Kate Middleton.
Ralph & Russo
Ralph & Russo is not just the only British couture label, but it's one that's known for its fabulous bridal collections that are fit for a princess already. There's been rumors swirling about this particular brand for a while, with hype only growing when Markle wore a Ralph & Russo gown for her official engagement photos.
Alexander McQueen
McQueen was behind Kate Middleton's $400,000-plus traditional and Cinderella-esque creation in 2011. Naturally people think this British label, which is currently led by creative director and designer Sarah Burton, may be behind Markle's too.
However, take into account how different Middleton and Markle's styles are. Middleton was always into the classic and traditional. With Markle, it's a different story.
May 19 can't come soon enough.