Why homes, rent and college are so much more expensive than they were in the 1960s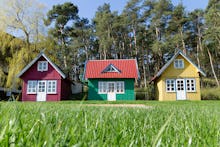 You don't need to live in expensive cities like San Francisco or New York City to feel like your rent checks are getting larger. Across the country, prices for a lot of the stuff we need — homes and health care, for example, are growing faster than wages are.
When the silent generation was buying homes in 1960, they spent an average of $11,900, according to a recent study from Student Loan Hero, a little more than $98,000 in today's dollars. That's not exactly chump change, but the average home now goes for more than $170,000, an increase of 73%.
There are all sorts of factors that make housing more expensive. Cities with lots of jobs don't always have an easy time building new homes for all the new people that move in looking for work. When lots of people with good jobs relocate to a city, the price for starter homes goes up, helping to explain why you're so much more likely to still be living with a roommate as you approach your thirties, in comparison to mom and dad's generation.
The percentage of grown adults living with roommates has grown by eight percentage points since the year 2000, according to estimates from the real estate company Zillow.
The rising cost of housing is small compared to the rising cost of college, as Student Loan Hero notes. The price of a semester at a public, four-year college has grown 213% since the 1987-1988 school year. But incomes have only grown by 67% since 1970, hardly enough to make up for all the new costs.
As with housing, the reasons behind the soaring costs of higher education are complex, from the increased availability of student loans — when people can borrow more, colleges can raise their prices — to budget cuts for once-affordable state universities.
One item that has actually gotten cheaper? Beer, which used to go for nearly $5 a drink in inflation-adjusted terms, according to Student Loan Hero. Thanks to changing appetites and falling taxes, a quick pint at the local bar is only $3.99 these days. That price may fall even further as legal pot spreads across the country, according to CNBC.
How to earn more — or spend less
There are some signs that millennials are rising to the occasion financially. Millennials tend to carry far less credit card debt than their generational predecessors, and eight out of 10 of them maintain a household budget.
Technology is also making it easier for people to earn money in the "gig economy," particularly for those in creative professions who have the ability to differentiate themselves on platforms like Etsy. Moving to a new city — particularly one that's offering incentives to attract new residents — can also help you live a lot better for less.
Yet other factors keeping our paychecks small are chiefly political, as Brookings Institution recently noted. Policies like a higher minimum wage, better workplace protections or a Federal Reserve that was slower to raise interest rates might all boost paychecks. As you look for unconventional ways to increase your earnings, don't discount the ballot box.
Sign up for the Payoff — your weekly crash course on how to live your best financial life.