'RuPaul's Drag Race' season 5 winner Jinkx Monsoon wants to voice an 'Overwatch' character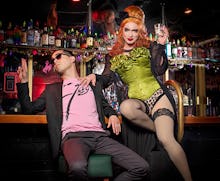 Jinkx Monsoon is more than just the lovable weirdo who won season five of RuPaul's Drag Race — they're also a voiceover actor and avid gamer. And Jinkx's newest career goal looks to combine all of those interests into one.
Jinkx — who uses they/them pronouns — has posted a couple of tweets since Friday publicly voicing their desire to play a character in Overwatch, a popular online competitive shooter made by Blizzard Entertainment, the same company that made World of Warcraft. Jinkx tweets often about playing the game, but now they're hoping to actually be a part of it.
And if Jinkx has their way, they'll be the voice of the queen of Junkertown, the leader of a chaotic, dangerous settlement in the Australian Outback occupied by criminals and scavengers. Blizzard has yet to announce the queen as a playable hero, but she's someone the fandom has theorized might be playable in the future. (Technically, the queen already has a voiceover actress. She narrates the trailer for the Junkertown map, but that doesn't necessarily mean Blizzard will use that actor again if they turn her into a playable hero.)
Jinkx first tweeted their interest on Friday, when they posted art depicting themselves as the queen.
They tweeted again on Tuesday morning, this time tagging Andrea Toyias, the casting director for Overwatch.
Jinkx is no stranger to the world of voiceover work, either: In January, they voiced Emerald in the animated Cartoon Network show Steven Universe. Jinkx originally campaigned the show's creator, Rebecca Sugar, for a role in the show via a YouTube video uploaded in 2015, so maybe they're hoping a similar approach will work here.
In early April, Toyias responded to a tweet from a fan suggesting Jinkx for a part in the game, so it's officially out there. The ball's in Blizzard's court now.
But the last time a public figure campaigned for a place in Overwatch's roster of voice actors, it didn't result in much of anything. Not yet, anyway.
For months, Brooklyn Nine-Nine actor Terry Crews was vocal about his willingness to contribute his voice to the Overwatch character Doomfist, who was nothing more than a rumor at the time. There were all sorts of cryptic, mysterious goings-on — like a visit to Blizzard's campus — that some fans interpreted as a sign that Crews was actually going to voice Doomfist, but the rumors didn't pan out. In July, Blizzard finally announced Doomfist as a playable character, but he was voiced by actor Sahr Ngaujah.
Let's hope things turn out better for Jinkx.