The best time to book summer 2018 travel is in April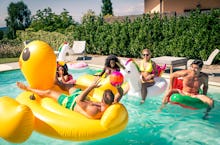 Depending on where you live in the country, it may feel like summer's never coming. That serious lack of vitamin D is reason enough to get a head start on booking summer travel this year. Recent data from Hipmunk found the prime times for booking summer flights within the U.S. — and if you want to snag a deal, you're going to want to book soon.
Planning a Memorial Day trip? Buying your flights the week of April 23 can save you up to 16%. If July Fourth weekend is when you're making your escape, booking this same week can save you up to 14% on flight costs, according to Hipmunk.
If you're not ready to fully commit by the week of April 23 and secure your summer travel, Hipmunk suggests reserving your flights three weeks before departure to save up to 14%. Some domestic airlines, like United Airlines, allow you to reserve a flight with FareLock for up to a week, for a small fee.
When not to book
If crowded travel days are your worst nightmare, there are a few dates you might consider staying put. Hipmunk found that the busiest travel days this summer will be June 22, June 29 and June 30. June 29 also happens to be the most expensive departure date for Fourth of July travel.
Your best bet for avoiding the hordes of travel seekers is to leave a bit earlier for your July Fourth fete, or stay at home. Driving over flying won't fare you any luckier — in 2016, an estimated 43 million Americans took road trips around the holiday, so the roads will be just as crowded as the airports.