Statue of Dr. James Marion Sims, who experimented on enslaved black women, removed from Central Park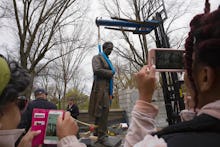 East Harlem activists claimed victory Tuesday in an almost 10-year battle to remove a statue of Dr. James Marion Sims — a surgeon hailed as "the father of modern gynecology," who experimented on enslaved black women to further his medical innovations — from New York City's Central Park.
"It was a long process but it resulted in, I think, the correct decision," Tom Finkelpearl, the city's commissioner of cultural affairs, said in an interview. "So I'm happy today."
Mayor Bill de Blasio ordered the statue's removal Jan. 12 based on the recommendation of a special panel formed to revisit the meanings and histories behind monuments and markers across the city.
The statue of Sims will be moved to the doctor's burial site at Green-Wood Cemetery in Brooklyn. First dedicated in 1894, in what is now Bryant Park, the monument was moved to Manhattan's largest park in 1934, where it stood until Tuesday morning.
Commissioner Finkelpearl and Darren Walker — president of the Ford Foundation — co-chaired the Mayoral Advisory Commission on City Art, Monuments and Markers, which recommended the statue's removal after holding town halls in all five boroughs, taking suggestions from residents online and hearing from doctors and gynecological associations, Finkelpearl said.
The decision was ultimately driven by Sims' decision to surgically operate without anesthesia on 12 enslaved black women between 1845 and 1849, DNAInfo reported.
"Just by the nature of their enslavement this [practice] was not consensual," Finkelpearl said, "so there's a medical ethics breach that is so significant, that for him to be put up on a pedestal is highly questionable."
The statue's location was also controversial because it stood across the street from the New York Academy of Medicine, a 160-year-old institution leading advancements in urban health. Finkelpearl described that location as "the wrong place for this doctor to be commemorated in New York City."
A temporary sign has since been erected at the statue's former location in Central Park, noting that it has been removed. City government officials are now taking an "additive approach" to the removal, and plan to build another statue in Sims' place, according to Finkelpearl.
A spokesperson for the Mayor's Office said the local community will have input on choosing the next monument. Finkelpearl shared suggestions the commission has heard thus far.
"There are three women named by name that were the subject of his experiments, so we can say let's put them up on the pedestal," he said. "We don't know what they look like, but we can say, let's put up a representation somehow. Or another alternative — and this was recommended by the commission — is to say, 'Are there women of color who are doctors who made a significant contribution to their communities or to medical research that would be the alternative?'"
The campaign to remove Sims' likeness from Central Park began in 2010, according to a timeline published by the East Harlem Preservation website.
The Harlem-based advocacy organization mobilized around local community activist Viola Plummer, who sought to have the history of Sims' experiments on enslaved black women formally recognized. Plummer was drawn to the cause after reading the 2006 book Medical Apartheid: The Dark History of Medical Experimentation on Black Americans from Colonial Times to the Present, by Harriet A. Washington.
De Blasio's decree to remove Sims' statue was the first action he's taken based on recommendations submitted in January by the Commission on City Art, Monuments and Markers. The commission was formed in September, a month after violent protests erupted over the removal of a statue of Confederate General Robert E. Lee in Charlottesville, Virginia.
In February, Mic launched the Black Monuments Project, a visual reimagining of the American landscape stripped of monuments to racists. In their stead stand statues of black heroes from across history — activists, writers, innovators and others whose very existence upends the myth of white supremacy.