Where are the repercussions when designers like Karl Lagerfeld make problematic statements?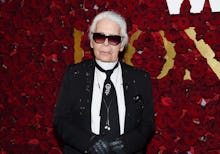 "If you don't want your pants pulled about, don't become a model! Join a nunnery, there'll always be a place for you in the convent. They're recruiting even!"
Those are not the words of a deeply unpopular fashion figure desperate for a headline, but of Karl Lagerfeld — the designer and creative mind behind Chanel and Fendi, two of fashion's most powerful brands — in a recent interview with Numéro magazine.
"I read somewhere that now you must ask a model if she is comfortable with posing," Lagerfeld said, speaking about the #MeToo movement. "It's simply too much, from now on, as a designer, you can't do anything."
Lagerfeld's Chanel has been adored for decades by both the fashion elite and celebrities like Kendall Jenner, Lily-Rose Depp and Willow Smith, all of whom have walked the runway or starred in campaigns for the brand.
Chanel has even hosted fashion shows styled to look like feminist protests.
And yet here is the brand's creative director denouncing #MeToo, a movement that has allowed women and men to speak out about the rampant sexual abuse within the fashion industry and beyond.
After Lagerfeld's comments were made public, some fashion-oriented publications attempted to bury that part of Numéro's story. "In Interview, Karl Lagerfeld Snatches Entire Industry Worth Of Wigs," Refinery29 wrote.
The only real repercussion Lagerfeld has faced is some light Twitter shaming from celebrities, including Chrissy Teigen and Rose McGowan, who was one of the first women to accuse former Hollywood mogul Harvey Weinstein of sexual assault.
In the fashion industry as a whole, it's been nothing but crickets.
Though fashion has been quick to forget, Lagerfeld has made plenty of other salacious comments in the past. "She is a little too fat, but she has a beautiful face and a divine voice," Lagerfeld said about Adele in 2012. After Kim Kardashian West was robbed in Paris in 2016, Lagerfeld showed support on social media before he seemed to lay part of the blame on her. "You cannot display your wealth [and] then be surprised that some people want to share it," he told the Associated Press that same week.
And in 2017, Lagerfeld mentioned the Holocaust when criticizing Germany's immigration policies. "One cannot — even if there are decades between them — kill millions of Jews so you can bring millions of their worst enemies in their place," he said.
Lagerfeld's habit of making provocative and often deeply offensive comments mirrors that of Domenico Dolce and Stefano Gabbana of the eponymous Dolce & Gabbana. For years, the two have made derogatory comments on a variety of topics.
"We oppose gay adoptions," the designers told Italy's Panorama magazine in 2015. "The only family is the traditional one. No chemical offsprings and rented uterus: Life has a natural flow, there are things that should not be changed."
"I call children of chemistry, synthetic children," Dolce continued. "Rented uterus, semen chosen from a catalog."
In addition to designing controversial garments — including "slave sandals" and a T-shirt with the words "I am not a gay man" printed across the front, which some considered homophobic — Gabbana has gone to war with his Instagram followers over first lady Melania Trump, whom the pair dress regularly.
And in 2017, Gabbana pulled a Lagerfeld and criticized #MeToo in a Vogue U.K. interview. "After 20 years you say, 'Ah! He touched my ass!' It's not violence, this," he said. "Who doesn't do sex? Who doesn't? It's a trend. Now the trend is sex. But sex is an old story. We are Italian. We came from the Roman Empire. We know very well."
Similarly to Lagerfeld, there has been no real industry-wide blowback to any of these inflammatory comments. Some of our most famous (and often politically progressive) celebrities, including Janelle Monáe, Sarah Jessica Parker and Rihanna, continue to wear the D&G brand.
Lagerfeld's designs are still regularly worn by tons of famous people, too, including Tracee Ellis Ross, Margot Robbie — who became the brand's newest ambassador in March — and Bella Hadid.
It's like stylists have been able to separate the design from the designer, much like people argue they can watch and love a Woody Allen movie because they're separating the art from the artist.
But at least one designer has openly tried to distance himself from D&G.
"I don't fuck with Stefano Gabbana or D&G after their Trump nonsense and I think his overuse of social media isn't helping the brand," Kerby Jean-Raymond, founder of menswear label Pyer Moss, said in an interview with Mic.
And it could be just the beginning.
Though the fashion industry has attempted to act like it cares about the #MeToo movement and the people who have spoken out because of it, its muteness on statements like Lagerfeld's tell another story.