Trump is seeking to distance himself from Michael Cohen, because of course he is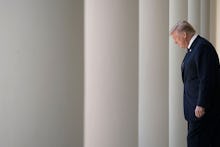 The clumsy dance has begun, again.
With the walls closing in on Michael Cohen, President Donald Trump's longtime lawyer and fixer, the White House is seeking to downplay their relationship, suggesting Cohen is just one of "a large number of attorneys" who work for the president, as press secretary Sarah Huckabee Sanders said Monday.
It's a preposterous suggestion, given Cohen's deep, well-documented entanglements in Trump's most perilous business and personal matters. But that hasn't stopped Trump from attempting to distance himself from others in his orbit who have found themselves in legal jeopardy. Indeed, it's the way the president and his team have responded to the downfalls of everyone from young campaign advisers to some of his closest associates.
Take Paul Manafort, for instance.
He chaired the Trump campaign through the summer of 2016, including during the Republican National Convention in July, during which Trump was officially named the GOP nominee for president.
After Manafort was forced to resign in August 2016 over his shady business dealings, Trump praised the former campaign manager in a statement, thanking him for his "great work in helping to get us where we are today, and in particular his work guiding us through the delegate and convention process."
But as Manafort came under heavy scrutiny from special counsel Robert Mueller and the media in 2017, the White House began downplaying his role on the campaign he once chaired.
"[Manafort] played a very limited role for a very limited amount of time," then-press secretary Sean Spicer said in March 2017.
Mueller indicted Manafort and his former business associate, Rick Gates, in October on a number of charges — including conspiracy against the United States — related to their work on behalf of pro-Russian interests in Ukraine. After that, the White House threw Manafort to the wolves.
"It doesn't have anything to do with us because this is something ... that took place outside of the campaign," Sanders said in a press briefing the day of Manafort's indictment. "Paul Manafort was brought in to lead the delegate process, which he did, and was dismissed not too long after that."
Also on that day, Mueller announced he had obtained a guilty plea from George Papadopoulos, former foreign policy adviser to the Trump campaign — someone Trump oddly described as a "young, low-level volunteer named George."
But it was later revealed Papadopoulos played a more significant role in the campaign than Trump and his allies led the public to believe. The aide had represented the campaign on several occasions; maintained regular contact with more senior staffers, including Stephen Miller; and raised the possibility of arranging a meeting between Trump and Russian President Vladimir Putin during a March 2016 national security meeting.
Trump reportedly "listened with interest" to Papadopoulos' suggestion.
Michael Flynn was the next big chip to fall in Mueller's probe.
After serving in high-profile roles on the Trump campaign and transition teams, the retired general served as Trump's first national security adviser — until he was ousted less than a month into the gig over contacts he'd had with then-Russian ambassador Sergey Kislyak.
As the pressure on Flynn heightened throughout 2017, the White House attempted to minimize the role he'd played. During the same March presser in which he downplayed Manafort's role, Spicer bafflingly referred to Flynn as a "volunteer of the campaign."
And though Trump has indicated Flynn unfairly had his life "destroyed" by Mueller — who brokered a plea deal with the retired general in December — the president and his team have reportedly looked to undermine his credibility by painting him as a liar.
"[Flynn] said it himself," a Trump staffer told the Washington Post in December, after the former national security adviser pleaded guilty of making false statements to the FBI about his contacts with Russia. "He's a liar."
Trump and his team now appear to be trying to dissociate from Cohen.
As CNN's Manu Raju noted Monday, Sanders' remark about Trump having "a large number of attorneys" hasn't been the administration's only attempt to minimize Cohen's role.
Deputy press secretary Hogan Gidley echoed Sanders in an interview with CNN's Anderson Cooper on Monday evening, implying Cohen is but one lawyer in the president's stable.
"The president has many attorneys," Gidley said. "This isn't his only one."
Trump — who described Cohen as a "very smart person" in 2007 and has employed him for more than a decade — also appeared to break with his "pit bull" in recent weeks.
When asked earlier in April if he was aware of the $130,000 in alleged hush money Cohen paid to porn star Stormy Daniels in 2016, Trump denied having knowledge of the incident, seemingly leaving the embattled lawyer to absorb the full blunt of the blame.
"You'll have to ask Michael Cohen," Trump said.
According to Michael Avenatti, Daniels' lawyer, Trump's comments appeared to make Cohen more vulnerable to legal issues, such as possible violations of campaign finance laws.
"Donald Trump's comments on Air Force One created huge liability for Michael Cohen," Avenatti told MSNBC on April 9. "He threw him under the bus."
Trump is famous for expecting the kind of loyalty from others that he is unwilling to give them in return. As the Atlantic's McKay Coppins noted in 2017, Trump has cast aside staffers, close associates and even his own brother throughout his business career and now in his political one, often to avoid personal responsibility or embarrassment.
Trump's own future may now depend on the limits of his allies' loyalty.
Flynn, Gates and Papadopoulos have all decided to cooperate with Mueller — something that could prove dangerous for the president as the special counsel continues to investigate him for possible collusion with the Russians and obstruction of justice.
The FBI raid on Cohen has raised questions about whether the longtime Trump attorney will do the same.
Speaking on the View on Tuesday, Avenatti said he believes Cohen will be indicted within months and that he will "roll on the president."
"Mr. Trump left [Cohen] behind when he went to Washington," Avenatti said. "He hasn't done him any favors."
Correction: April 19, 2018