Fox News sticks by Sean Hannity after learning of relationship with Trump lawyer Michael Cohen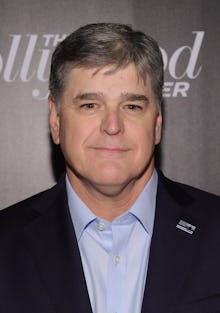 Fox News' Sean Hannity won't be punished for failing to disclose that he sought the legal advice of President Donald Trump's personal lawyer Michael Cohen, who was the subject of an FBI raid April 9.
In a statement to NPR's David Folkenflik, Fox News said that while it was "unaware" of Hannity's relationship with Cohen and "surprised by the announcement in court," it wouldn't be taking punitive action against the conservative commentator.
"We have reviewed the matter and spoken to Sean and he continues to have our full support," Fox News said in a statement, according to Folkenflik.
The revelation in federal court Monday that Hannity was one of three legal clients for whom Cohen has done legal work raised questions abut whether Hannity violated journalistic ethics, given that he has forcefully defended Cohen on his nightly Fox News program in the wake of the FBI raid.
Lawyer Alan Dershowitz — who has joined ranks with Trump supporters like Hannity to defend the president from the special counsel investigation that led to the Cohen raid — chided Hannity on Hannity's own show Monday night.
"Sean, I do want to say that I really think that you should have disclosed your relationship with Cohen when you talked about him on this show," Dershowitz told Hannity. "You could have said just that you had asked him for advice or whatever, but I think it would have been much, much better had you disclosed that relationship."
Hannity, however, has claimed he had a "right to privacy" and didn't need to disclose what he described as a "minor" legal relationship with Cohen.
"Michael Cohen has never represented me in any matter. I never retained him, received an invoice or paid legal fees," Hannity tweeted on Monday. "I have occasionally had brief discussions with him about legal questions about which I wanted his input and perspective. I assumed those conversations were confidential, but to be absolutely clear, they never involved any matter between me and a third party."