Why hazy New England IPAs are the next big thing in beer brewing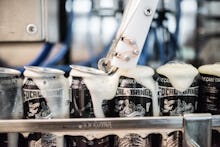 Every Saturday, legions of craft beer geeks descend on Other Half Brewing in the Gowanus neighborhood of Brooklyn, New York City. They're not there to pick up just any ordinary brew — they want the fully loaded New England IPA, an unfiltered brew with floral, fruity and bitter notes.
Other Half is one of the country's small but growing number of breweries perfecting the art of the New England IPA. What was once a hyperlocal craft beer trend is becoming more mainstream — and gaining international interest — as beer giants like Sam Adams and Mikkeller launch their own hazy brews.
The pioneer of the New England IPA trend is none other than John Kimmich, co-founder of Alchemist Beer in Waterbury, Vermont, and brewmaster behind Heady Topper. The beer, which shot to fame, around 2011, is arguably the world's best New England IPA.
"I've been brewing these types of IPAs for more than 20 years now," Kimmich said in an email interview. "It's been a long and slow growth of a trend, but it has certainly exploded in the last six years."
Mic talked to some of the beer leaders behind the trend about how the New England IPA movement has evolved over the years.
Look for the hoppy haze
A New England IPA is juicy, it's dry-hopped aggressively, it's got floral and fruity notes but finishes with bitter ones. While other beer styles have several distinctive qualities, the New England IPA is best defined by its hazy appearance in a glass.
"I was introduced to the idea of hazy IPAs back in the mid-'90s during my tenure as head brewer at the Vermont Pub and Brewery in Burlington, Vermont," Kimmich said. "My boss, Greg Noonan, taught me that the appearance of haze in a delicious IPA was not a bad thing at all."
That signature haze is a mix of yeast, oils, hops and aromatics. When you filter out those elements, the beer becomes just like any other IPA. "Filtering takes a lot of character out of the beer," Sam Richardson, co-founder of Other Half Brewing, said in a phone interview. "The haze helps bring out more pure expressions of the hops and yeasts."
Kimmich said the Alchemist has been explaining to customers the acceptability of an IPA's hazy appearance since the brewery opened in 2003. "It took a long time, and we used to catch a lot of flack about it for a number of years," Kimmich said. "I'd say the education was a success."
But Kimmich also noted that the haze doesn't speak to a beer's quality. It's up to the brewer to make the careful selection of hops (both bitter and aromatic) and yeasts to give the brew character.
They're always double dry-hopped
Other than its signature haze — and the fact it's most often served in 16-ounce cans — most brewers say there's no secret formula to what makes a New England IPA. "Everyone has their different take on the New England IPA, that's what makes it so different and special," Andrew Burman, another co-founder of Other Half, said in a phone interview.
Think of hops in beer like cooking with spices — some give off more flavor than aroma. While most IPAs emphasize bitter hops, the New England IPA is all about the aromatic hops, like Cascade, a spicy, citrusy hop; Citra, which gives the beer a grapefruit and passion fruit aroma; and Mosaic, a hop with blueberry and mango notes.
Meanwhile, West Coast IPAs tend to be drier and more bitter, according to Burman. "West Coast IPAs are typically brewed with more neutral yeast strains, which kick off their own flavor compounds," Burman said. "New England IPAs have yeast strains that have more esters — the fruit profile — in beer."
What you can count on, though, is that most of today's New England IPAs are double dry-hopped, which simply means they're infused with twice the hops as a normal beer. To brew beer, you add hops toward the end of a boil to impart more flavor and bitterness. Double dry-hopping is when you add even more hops during the fermentation process, which occurs days or sometimes weeks after the initial brew. Double dry-hopping gives the beer more fruity, juicy and tropical aromatics and less bitter notes. This is where the haze comes from.
In some cases, brewers will use only one type of hops throughout the entire brewing and fermentation process. Other Half's All Citra Everything and Forever Simcoe beers are examples of single-hop beers, which allow you to appreciate the full aroma and expression of the hop. It's also a way for brewers to educate themselves on the flavor profile and aromatic qualities of the hop they use. Hill Farmstead Brewery in Greensboro, Vermont, is also known for its single-hop series, which includes Galaxy, Citra, Cascade and Amarillo.
Burman predicted the next iteration of New England brews will include newer hop strains and funkier ingredients. "We're constantly looking for new hops to implement new flavor profiles in the beer," he said. "Fruity ones, sour ones. We've started adding lactose to our beers."
Lactose is commonly found in stouts to give it a sweet and rich flavor, but it can also balance the tartness in fruit and the bitterness in the hops. The result is an ultra-juicy beer with a creamy mouthfeel and a hue that looks like melted butter.
Can the New England IPA go mainstream?
The main issue with widespread access to New England IPAs is transportation and maintaining freshness. Richardson said the beers should be distributed within six weeks of brewing in order to truly enjoy the beer as intended. This can be tricky in a mass market, which is why most breweries only distribute locally.
All Alchemist beer is sold within a 20-mile radius of the brewery. "Jen [Kimmich] and I have always preferred the taste and appearance of unfiltered and unpasteurized beer," John Kimmich said. "We set up our entire distribution plan according to the needs of providing that perfect experience for our customers."
Similarly, Other Half and other New England IPA-producing breweries — like Trillium Brewing in Canton, Massachusetts; Tree House Brewing in Charlton, Massachusetts; and Grimm Artisanal Ales in Brooklyn — distribute only to nearby bars, taprooms and restaurants.
It remains to be seen whether titans like Anheuser-Busch InBev — the makers of Goose Island, Budweiser and Blue Point — can capture the same unfiltered flavor. But craft beer brewers are all for more innovation.
"I think it's great to see other brewers launching their own New England IPA," Richardson said. "It gives credence to the style." As Kimmich puts it, "That is just a natural progression throughout the brewing industry. Brewers inspire other brewers to try new things."