Mike Pompeo makes secret trip to North Korea to meet with Kim Jong Un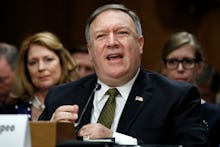 Welcome to Mic's daily read on Donald Trump's America. Want to receive this as a daily email in your inbox? Subscribe here.
Good morning from Emily Singer at Mic.
Here's what's happening in Trump's America:
• Former first lady Barbara Bush died Tuesday at the age of 92.
About last night: Condolences pour in after Barbara Bush's death
Former first lady Barbara Bush died Tuesday at the age of 92, just days after the family announced she was no longer seeking treatment for her failing health.
Bush was the second woman in history to be both the wife and mother of presidents (she was married for 73 years to former President George H. W. Bush and is mother to former President George W. Bush). She is said to have been an important player in helping get both men elected.
It's hard to find a politician or political figure who didn't offer condolences to the Bush family after her death. Trump and first lady Melania Trump celebrated Bush in a statement (albeit a statement with the wrong date).
"As a wife, mother, grandmother, military spouse and former first lady, Mrs. Bush was an advocate of the American family," the Trumps said in a statement. "Amongst her greatest achievements was recognizing the importance of literacy as a fundamental family value that requires nurturing and protection. She will be long remembered for her strong devotion to country and family, both of which she served unfailingly well. The president and first lady's thoughts and prayers are with the family and friends of Mrs. Bush."
Former president Barack Obama and former first lady Michelle Obama called Bush "the rock of a family," while former President Bill Clinton and former Secretary of State Hillary Clinton called Bush a "remarkable woman" who "showed us what an honest, vibrant, full life looks like."
A funeral service will be held Saturday morning in Houston.
Today in Trump's America: The U.S. sets the stage for possible meeting with North Korea's Kim
Trump announced Tuesday that the U.S. had begun direct talks with North Korea "at very high levels" and said a meeting with Kim could come "in early June or a little before that."
The comments led to questions about whether Trump himself had talked to Kim. However, the Washington Post reported Tuesday night that it was CIA Director Mike Pompeo — who Trump nominated to replace Rex Tillerson as secretary of state — who secretly traveled to North Korea on Easter weekend to meet with Kim and lay the groundwork for a meeting between the two leaders.
The White House wouldn't confirm the meeting Tuesday night. But Trump himself confirmed it in a Wednesday morning tweet.
"Mike Pompeo met with Kim Jong Un in North Korea last week," Trump tweeted. "Meeting went very smoothly and a good relationship was formed. Details of Summit are being worked out now. Denuclearization will be a great thing for World, but also for North Korea!"
Pompeo, who sat before the Senate Foreign Relations committee for his confirmation hearing last week, didn't tell senators that he had met with Kim, but told the committee he was "optimistic that the United States government can set the conditions ... so that the president and the North Korean leader can have that conversation," according to the Associated Press.
Capitol Hill happenings: Speaking of Pompeo...
Despite news that Pompeo has already hit the ground running as America's top diplomat by meeting with the reclusive North Korean leader, his confirmation is in doubt.
Sens. Dianne Feinstein, Tim Kaine and Jeanne Shaheen, three key Democrats on the Senate Foreign Relations Committee, say they will vote against Pompeo's nomination. Another committee member, Sen. Rand Paul (R-Ky.), also opposes his confirmation.
If all four of those members vote against Pompeo in committee, that would make him the first secretary of state nominee to receive an unfavorable recommendation from the committee since 1925, according to CNN.
To be clear, an unfavorable recommendation from the committee doesn't mean Pompeo's nomination would fail before the full Senate. He still could be put up for a vote before the full Senate and win conformation.
But as of Tuesday night, there were signs Pompeo might have trouble being confirmed altogether, as Sen. Jeff Flake (R-Ariz.) told NBC News he was undecided. If Democrats, along with Paul and Flake, vote against Pompeo's nomination, it would fail.
It's unclear whether the news of Pompeo's meeting in North Korea will bolster his nomination hopes.
And the rest…
Legal trouble?: Trump on Wednesday morning publicly commented on Stormy Daniels for the first time, raising questions about whether he violated the nondisclosure agreement he signed with the porn actress. Trump tweeted about a sketch Daniels' lawyer released of a man she claims threatened her to keep quiet about the alleged affair. "A sketch years later about a nonexistent man. A total con job, playing the Fake News Media for Fools (but they know it)!" Trump tweeted.
Blake Farenthold: The Texas Republican abruptly resigned from Congress in April, months after it surfaced that he had paid a former aide $84,000 to keep quiet about sexual harassment allegations she made against him. It's now clear why he resigned: HuffPost reports that the House Ethics Committee was about to release a damning report against him. By resigning, Farenthold avoided being punished by the committee.
Another one bites the dust: Rep. Charlie Dent (R-Pa.) had already announced in September that he would not seek re-election. But Dent announced Tuesday that he no longer plans to serve out the remainder of his term and instead will resign in May. He has been a vocal critic of the state of affairs in Congress, saying the body is plagued by "dysfunction, disorder and chaos."
Medicaid expansion: Virginia got one step closer Tuesday to expanding Medicaid in the state, after the Republican-controlled House of Delegates passed a bill that would give 400,000 low-income residents access to health care. The bill, however, still needs to pass the Republican-controlled state Senate.
Nikki Haley: The Trump administration threw Haley, the U.S. ambassador to the United Nations, under the bus Tuesday, blaming her for having "momentary confusion" when she announced that the U.S. would place additional sanctions on Russia. The White House says the sanctions were never approved and walked back Haley's announcement that Russia would face additional punishment for its role in propping up Syrian President Bashar Assad. Haley, however, fired back, saying on Fox News, "With all due respect, I don't get confused."